High Pressure Datalogger facilitates hydrostatic test reports.
Press Release Summary: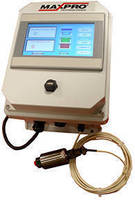 Offered with ranges from 0–500 psi to 0–60,000 psi, 12 x 10 x 8 in. High Pressure Data Logger indicates real-time and peak pressure and digitally records pressure during tests. Reports are generated automatically when operator chooses to print or save. Supplied with pressure transducer and 2 pre-formatted jump drives, 12 lb unit features 7 in. color touchscreen, USB and Ethernet ports, and auto peak reset function. Data storage also allows for import into spreadsheets or test report.
---
Original Press Release:

Improved High Pressure Data Logger for Hydrostatic Test Reports



Maxpro Technologies Improved High Pressure Data Logger



Fairview, PA – Maxpro Technologies data logger has been re-engineered to offer additional features improving the recording of testing data and offering easy to use features.  Reports are generated automatically when you choose to print or save.



The unit is designed to digitally record pressure during tests, complementing Maxpro pump and booster packaged power systems as well as other types of power systems.

• Pressure loggers are useful in any industry that has need for an easy, accurate way to record pressure tests.

• The complete Pressure Logger comes with a pressure transducer, 2 pre-formatted jump drives and instructions, including step by step instructions on how to create customized test reports. Maxpro Technologies offers a complete line of high pressure valves, fittings and tubing as well as a complete line of air driven pumps, air amplifiers and gas boosters.



Pressure Logger Features:

• 7" Color touch screen

• Instant Test Report

• USB Memory Port

• Ethernet Port

• 120 V 60 Hz or 230 V 50/60 Hz

• Digital Indication of Real time Pressure and Peak Pressure

• Trending On screen

• Data Storage for import into Spreadsheets or Test Report

• Auto Peak Reset

• Pressure ranges available from 0-500 psi to 0-60,000 psi



Options Available:

Keyboard and Mouse

Printer

Thermocouple and RTD Temperature Sensors

Multiple Sensors for different Pressure Ranges



Dimensions:

Height 12"   Width 10"   Depth 8"    Weight 12 lb.



For more information, visit our website at www.maxprotech.com, or contact us at:

MAXPRO Technologies, 7728 Klier Drive South, Fairview, PA 16415

Phone 814-474-9191, Fax 814-474-9391