High-precision Surface Machining Requires High-quality Manufacturing Products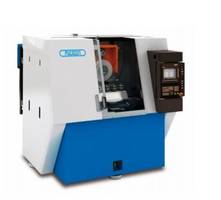 As a worldwide leading manufacturer of high-precision machine tools for ultra-fine surface finishing, Lapmaster Wolters is devoted to the success of their customers with innovative technologies and solutions that increase productivity.
The machines of the MICRON product line are used in industry sectors, where profiles and grooves must be created in hard materials with exacting dimensional accuracy requirements and a high surface quality. Here, the components installed in the MICRON machines are key in addition to fixture and process. The precision rotary tables of pL Lehmann in Switzerland have demonstrated excellent results and meet the high requirements of the customers.
pL Lehmann has developed and built precision rotary tables for more than 40 years and is at home in all industry sectors worldwide – similar to Lapmaster Wolters. Mainly in applications requiring an additional rotary axis, Lapmaster Wolters has for years counted consistently on the precision rotary tables made by pL Lehman. The combination of Made in Germany and Made in Switzerland ensures highest precision in connection with high efficiency.
Application examples are hydraulic rotors and stators, which are machined with different processes. The cycloid contours of hydraulic rotors are created by horizontal grinding, while the pL Lehmann rotary table turns the workpiece axially, ensuring high-precision alignment of the contour to the workpiece center.
Lapmaster Wolters uses the MACRO-SK model featuring a special design with vertical grinding direction for stator grinding. This process uses gravity to optimize the flow of the cooling additive. Furthermore, the vertically clamped workpieces ensure a dimensionally stable unmachined part package resulting in outstanding dimensional accuracies as well as surface quality. This is another example, where Lapmaster Wolters uses the outstanding quality of Lehmann rotary tables with vertically arranged axis to ensure optimum sealing characteristics on the functional surfaces for rotors and stators.
Customers benefit from highest precision as well as durability and efficiency. The close collaboration between the designers of both companies is characterized by open and fruitful communication as confirmed by Sascha Garzke, Product Manager for the MICRON series at Lapmaster Wolters: "pL Lehmann is a professional and reliable partner to position our MICRON machines as technology leaders in the international market. This open and fruitful communication ensures the best final product and thus a successful customer."
Contact This Company Download Spec Sheet
More from Machinery & Machining Tools