High Power Discharge Capacitors for Phased Array Radar and Pulse Laser Targeting are Introduced by Evans Capacitor.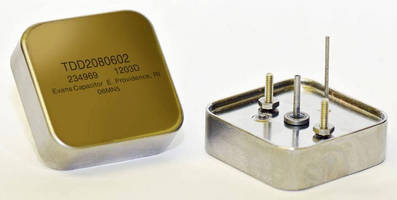 High Power Pulse Generation



East Providence, RI – Evans Capacitor Company in East Providence, RI, has introduced a new style of proprietary Hermetic Tantalum Hybrid Capacitor that provides high power for pulse applications. The TDD series of Hybrid Capacitors has a patent pending design that greatly reduces ESR. These capacitors have greater efficiency, generate less heat, and are capable of higher discharge currents and more demanding duty cycles.



THQ and THS style Hybrid Capacitors already power high current pulse Laser targeting systems with 100 to 200 amp pulse requirements. The TDD series capacitor with high capacitance and very low ESR will support large currents with minimal voltage droop.  The low inductance design facilitates a very short rise time and good frequency response.



In large phased array radar systems, Hybrid Capacitors have been the pulse generators of choice, with the high capacitance, low ESR and reliability required for aggressive applications. The TDD series, with ultra low ESR, provides improved pulse characteristics with excellent frequency response. Reduced heat generation allows increased pulse currents, or higher duty cycles. The lower I2R induced heating can eliminate external cooling requirements, saving space, weight and cost in the overall system.  Cooler operation results in longer life.



TDD Series Hybrid Capacitors  are available in 50V to 125V in a range of capacitance ratings.



For more information visit Evans Capacitor Company online at www.evanscap.com.

More from HVAC