High Power Density Inductor suits DC/DC converter applications.
Press Release Summary: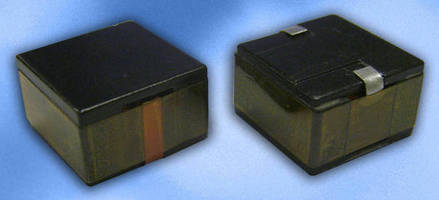 Measuring 19.2 x 19.6 x 12.2 mm, HA73 Series features high saturation core material and up to 800 kHz operating frequency. Typical rated inductance range, depending on device, is 13.5-29.5 µH with typ rated current range from 6.5-9 A. Additional characteristics for this SMT power inductor include 8-12 A heating current range, with 9-13 A saturation current; 12.8-28.6 mΩ typ DC resistance; and -40 to +155°C operating temperature range. Max temperature rise is +50°C.
---
Original Press Release:

BI Technologies Develops High Power Density Inductor for DC-to-DC Converter Power Applications



Surface mount inductors exhibit superior efficiency, low power losses...

FULLERTON, CA - TT electronics BI Technologies, a leading manufacturer of magnetic components including inductors, transformers and common mode chokes, has developed a high current surface mount power inductor. Designated the HA73 Series, the inductor features a high saturation core material and an operating frequency up to 800kHz, while measuring just 19.2mm x 19.6mm with a height of 12.2mm.

"The core material utilized in these inductors enables them to offer high power density with superior efficiency and minimal power losses in an extremely small package," said Donna Schaefer, application engineering manager for TT electronics' BI Technologies. "The complete package design and core materials makes these inductors ideal for use in DC-to-DC converter power applications."

The HA73 Series inductors feature a typical rated inductance range from 13.5µH to 29.5µH, with a typical rated current range from 6.5A to 9A, depending on the device. Heating current ranges from 8A to 12A, with a saturation current from 9A to 13A. Typical DC resistance for the inductor ranges from 12.8mΩ to 28.6mΩ. Operating temperature ranges from -40°C to +155°C, and maximum temperature rise is +50°C. BI Technologies will also produce devices outside these specifications to meet customer requirements.

Typical pricing for the HA73 Series power inductors ranges from $1.40 to $1.58 each in quantities of 10,000 pieces. Lead time is from 10 to 12 weeks.

For more information about the HA73 Series inductors, contact TT electronics' North American sales office at 4222 S. Staples St., Corpus Christi, TX 78411; call 361-985-3166; email sales@ttelectronics-na.com; or visit http://www.bitechnologies.com/products/magnetics_list.htm.

BI Technologies has been an innovator and leader in electronic components for more than 50 years. The company is a global manufacturer of trimming and precision potentiometers, position sensors, turns-counting dials, chip resistor arrays, resistor networks, integrated passive networks, transformers, inductors, hybrid microelectronics and custom integration products for communication, computer, industrial, and automotive applications.

BI Technologies serves a global customer base with manufacturing locations in the United States, Mexico, Scotland, Japan, China and Malaysia.

TT electronics plc is a global electronics company manufacturing a broad range of advanced electronic components, assemblies and sensor modules for the automotive, industrial, telecommunication, computer and aerospace markets.

More from Test & Measurement