High Power Amplifier integrates power detector.
Press Release Summary: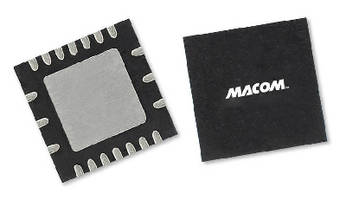 Designed specifically for 18 GHz wireless backhaul applications, Model MAAP-011145 covers 17.6–19.75 GHz frequency band and delivers over 2 W output power at 1 dB compression point. Device provides 25 dB small signal gain, OIP3 of 43 dBm, noise figure of 7 dB, and 34.5 dBm of saturated output power. Housed in 7 mm, lead-free cavity package, amplifier features temperature compensated integrated power detector as well as ESD protection and by-pass capacitors.
---
Original Press Release:

MACOM Introduces 2 Watt High Power Amplifier with Integrated Power Detector



MACOM's 17.65-19.75 GHz Device is Designed for Cellular Backhaul Applications and Extends its 18GHz Portfolio of High-Power Amplifiers



Lowell, Mass — M/A-COM Technology Solutions Inc. ("MACOM"), a leading supplier of high-performance analog RF, microwave, millimeterwave and photonic semiconductor solutions, today announced the new MAAP-011145, a power amplifier designed specifically for 18 GHz wireless backhaul applications.



The MAAP-011145 is a power amplifier covering the 17.6-19.75 GHz frequency band in a 7 mm, lead-free, cavity package. This device features a temperature compensated integrated power detector, and includes ESD protection and by-pass capacitors to ease the implementation and volume assembly of the packaged part.



The MAAP-011145 boasts over 2 watts output power at 1 dB compression point, 25 dB small signal gain, a Third Intercept Point (OIP3) of 43 dBm and a noise figure of 7 dB and 34.5 dBm of saturated output power. The MAAP-011145 provides customers with a robust, high performance solution for demanding cellular backhaul applications.



"The outstanding technical performance of our new MAAP-011145 power amplifier, coupled with our broad portfolio of switches, LNAs and diodes, provides point-point radio designers with an elegant solution for next generation 18GHz point-point radio designs," said Stuart Cornelius, Product Manager, MACOM. "This addition to MACOM's Wireless Backhaul power amplifier portfolio further positions MACOM as the power amplifier vendor of choice for Wireless Backhaul applications."



Production quantities and samples of the MAAP-011145 are available from stock. Final datasheets and additional product information can be obtained from the MACOM website at: www.macom.com.



The table below outlines typical performance:


| | | |
| --- | --- | --- |
| Parameter | Units | MAAP-011145 |
| Frequency | GHz | 17.65-19.75 |
| Small Signal Gain | dB | 25 |
| OIP3 | dBm | 43 |
| Saturated Output Power | dBm | 34.5 |
| Noise Figure | dB | 7 |
| P1dB | dBm | 34 |



ABOUT MACOM

M/A-COM Technology Solutions Holdings, Inc. (www.macom.com) is a leading supplier of high-performance analog RF, microwave, millimeterwave and photonic semiconductor products that enable next-generation Internet and modern battlefield applications. Recognized for its broad catalog portfolio of technologies and products, MACOM serves diverse markets, including high speed optical, satellite, radar, wired & wireless networks, automotive, industrial, medical and mobile devices. A pillar of the semiconductor industry, we thrive on more than 60 years of solving our customers' most complex problems, serving as a true partner for applications ranging from RF to Light.



Headquartered in Lowell, Massachusetts, M/A-COM Tech is certified to the ISO9001 international quality standard and ISO14001 environmental management standard. M/A-COM Tech has design centers and sales offices throughout North America, Europe, Asia and Australia.



MACOM, M/A-COM, M/A-COM Technology Solutions, M/A-COM Tech, Partners in RF & Microwave, The First Name in Microwave and related logos are trademarks of MACOM. All other trademarks are the property of their respective owners.



For more information about MACOM, please visit www.macom.com; follow @MACOMtweets on Twitter; join MACOM on LinkedIn, or visit the MACOM YouTube Channel.



FOR SALES INFORMATION, PLEASE CONTACT:

North Americas -- Phone: 800.366.2266

Europe -- Phone: +353.21.244.6400

India -- Phone: +91.80.43537383

China -- Phone: +86.21.2407.1588



MEDIA CONTACTS:

Ozzie Billimoria

M/A-COM Technology Solutions Inc.

978-656-2896

ozzie.billimoria@macom.com