High-Performance Welding with 600 Amperes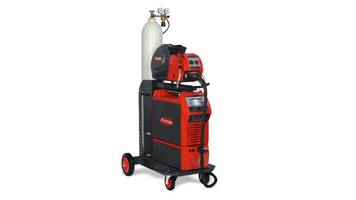 TPS 600i: The new powerhouse from the Fronius TPS/i family
A real powerhouse of a device now completes the upper end of the TPS/i family from Fronius: the TPS 600i. The new power source can supply up to 600 amperes of welding current at a welding voltage of 44 V and a 60 percent duty cycle. Thanks to its high welding power, the TPS 600i is particularly well suited to use in mechanised and robot-assisted welding within the heavy steel construction and mechanical engineering sectors, as well as in all applications where it is necessary to work with a single-wire process and an extremely high deposition rate is required.
The CU 1400i Pro cooling unit is optimally adapted to the TPS 600i and is easily capable of dispersing the thermal load typical of high performance welding. A sealless design and the use of a brushless and therefore wear-free pump motor guarantee greater system availability and durability than was previously possible.
The cooling system works so efficiently with the appropriate water-cooled welding torch for manual and automated welding that the welding torch will return to room temperature in just a few moments after welding is completed, even following long periods of welding.
Completing the package are two new wirefeeders. Tailored to the new welding system, these wirefeeders arealso driven by wear-free, brushless three-phase motors. The WF 30i can feed welding wire of up to 1.6 mm indiameter at a speed of up to 30 m/min., making it ideally suited to automated welding. The WF 15i will even feed 2.4 mm wires precisely and is therefore the perfect choice for repair and overlay welding.
More from Material Handling & Storage