High Performance Toolholder for Micro Machining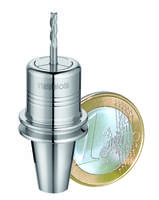 Special consideration must be made for micro-machining, which is why SCHUNK is offering the TRIBOS-RM precision toolholder as the best solution for micro machining with the ISO interface. The one-piece, rotationally symmetric design ensures long life of the machine spindles and the complete transmission of power.
Unlike heat shrink clamping, the TRIBOS-RM achieves steady tool clamping that will not distort the toolholder. The user will always benefit from a precise run-out accuracy of less than 0.003 mm, which is optimal with small tools for micro machining.
The TRIBOS-RM is designed for high spindle speeds of up to 60,000 rpm in high-speed cutting, making it ideal for the high speeds involved in micro-machining. Sizes ISO 10 D 1 - 6 mm are available. The balancing grade is G 2.5 at 25,000 rpm.
About SCHUNK:
SCHUNK is a German family-owned company and global player in one. More than 2,500 employees in 8 plants and 30 directly owned subsidiaries and distribution partners in more than 50 countries throughout the world ensure an intensive market presence. SCHUNK designs and manufactures an unmatched selection of clamping technology and gripping systems. www.schunk.com
Media Contact
Clare Welham
Marketing Coordinator
919-767-1997
Technical Contact
Matt Panosh
Group Manager Tooling
919-767-1968
Related