High-Performance Stepper Motor Drivers have bottom-side heat sink.
Press Release Summary: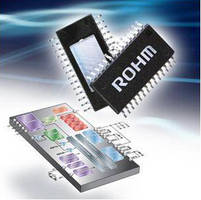 ROHM Microstep Motor Drivers offer selectable excitation modes of full-step to 16th step with 1.0 or 2.0 A output current and full-step to 8th-step with 2.5 A output current. Featuring selectable fast/slow/mixed decay pattern modes, they also have Ghost Supply Prevention function that prevents aberrant operation in off mode. Single clock input is converted by device's internal translator into motor drive signals and built-in regulator permits operation from single 36 V supply.
---
Original Press Release:

ROHM Microstep Motor Drivers Deliver High Performance and Reliability



Full-step to eighth-step and sixteenth-step devices operate from a single supply; ultra-thin, compact package bottom side heat sink; unique Ghost Supply Prevention feature eliminates motor malfunctions; built-in voltage, current and thermal protection.

SAN DIEGO, Calif. - The new high-performance, high-reliability stepper motor drivers from ROHM Semiconductor offer selectable excitation modes-full-step to sixteenth-step with 1.0A or 2.0A output current and full-step to eighth-step with 2.5A output current. These microstep drivers enable designers to optimize motor torque, noise and vibration for a wide range of applications.

Selectable current decay pattern (FAST/SLOW/MIXED decay modes) further enhances motor performance. Circuit design is simplified through a combination of features including an internal voltage regulator, control input translator and DMOS output. The built-in regulator permits operation from a single 36V (max.) supply. Instead of parallel control lines, a single clock (CLK) input is converted by the device's internal translator into motor drive signals. Additionally, ROHM's advanced DMOS (Pch + Nch) output topology eliminates the need for external charge pump components.

The ROHM microstep drivers are the latest addition to the ROHM Stepper Motor Driver Series, which incorporates undervoltage, overvoltage, overcurrent and thermal protection not typically included in motor driver ICs. This series also features ROHM's unique Ghost Supply Prevention (GSP) function that prevents aberrant operation in the off mode.

Field Application Engineer for ROHM Semiconductor, Jeremy Bridges, said, "The combination of ROHM's advanced power semiconductor process technology and enhanced packaging has resulted in exceptional motor driver solutions. Packaging benefits include bottom-side heat sinking to simplify thermal design, adjacent-pin short protection on most models to reduce production and field failures, as well as pin-compatibility among parts with different current ratings."

Price: US$3.00 (BD63843EFV - 1.0A)

(small OEM qty.) US$3.00 (BD63847EFV - 2.0A)

US$4.25 (BD63860EFV - 2.5A)

Avaliability: Samples Now

Delivery: 12 weeks ARO

More from Transportation Industry Products