High-Performance Crystals target automotive industry needs.
Press Release Summary: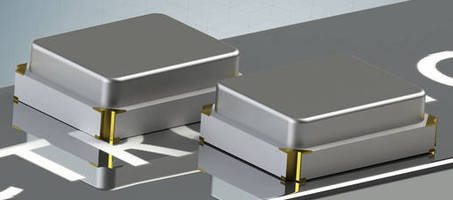 Comprising 2016-size (2.0 x 1.6 mm) crystals, XRCGB-F-A series supports frequencies from 24–48 MHz and exhibits frequency tolerance of ±30 ppm and frequency temperature stability of ±35 ppm within typical automobile operating range of -40 to +125°C. These AEC-Q200 compliant products are suitable for next-generation automotive LANs, such as Ethernet, or image processing ECUs as well as ADAS ECUs (camera, millimeter wave, laser, etc) and gateway ECUs.
---
Original Press Release:

Murata's Automotive Industry Focused Crystals are High Performance and Very Cost Effective



Hoofddorp, Netherlands: Murata today announced the launch of the XRCGB-F-A series crystal units for automotive applications. The crystals are the first in the world to use an exclusive new, proprietary package technology that delivers consistent superior quality, mass production capabilities, and importantly for customers, a highly cost-effective product.



In recent years demand has grown in the automotive market for electronic control units (ECUs) that provide sophisticated control capabilities. As a consequence, this has resulted in a trend towards ECUs that operate at higher frequencies. In response to this organic demand from the market, Murata has developed and commercialized the XRCGB-F-A series crystal units that are compact, 2016-size (2.0 x 1.6mm), and highly precise while supporting high frequencies. The line up of crystals in the series support frequencies from 24 to 48MHz, and products supporting other frequencies will be added in the future.



Combining small size with high precision, the crystal units feature a frequency tolerance of plus or minus 30ppm and a frequency temperature stability of plus or minus 35ppm within the typical operating temperature range of automobiles (-40 to +125 degrees C). This makes them suitable for next-generation automotive LANs such as Ethernet or image processing ECUs. The crystals are also ideal for use in ADAS ECUs (camera, millimeter wave, laser, etc.), and gateway ECUs. 



Mass production of the crystals is scheduled to commence in January 2015 at Toyama Murata Manufacturing Co., Ltd.  The XRCGB-F-A series comply with the AEC-Q200 reliability testing standards for automotive electronic components as well as with the RoHS/ELV directive.



Murata began mass production of crystal units jointly developed with Tokyo Denpa in 2009, and in 2013 commercialized the XRCHA-F-A series (2520-size) crystal units for automotive applications that cover a frequency range of 16 to 24MHz.



For further information and reader enquiries:

Donia Kamil

Murata Electronics Europe B.V.

Wegalaan 2, 2132 JC Hoofddorp, The Netherlands

Tel: +31 (0)23 5698456

E-mail: dkamil@murata.com

Fax:  +31 (0)23 5698361

Web: www.murata.com



Agency contact:

Robert Huntley

Publitek Limited, 18 Brock Street

Bath, BA1 2LW, United Kingdom

Tel: +44 (0) 1225 470000 

E-mail: robert.huntley@publitek.com

Fax:  +44 (0) 1225 470047 

Web: www.publitek.com



About Murata

Murata is a leading manufacturer of electronic components, modules, and devices. The complete range of this Technology house includes ceramic capacitors, resistors/thermistors, inductors/chokes, timing devices, buzzers, sensors and EMI suppression filters. Whilst the company is known as a global ceramic capacitor manufacturer, it is also the world leader in Bluetooth® & WiFi™ Modules, the world's no.1 manufacturer of board-mount DC-DC converters and is a key manufacturer of standard and custom AC-DC power supplies.



Established in 1944, Murata is headquartered in Japan and has European offices in Finland, France, Germany, Hungary, Italy, the Netherlands, Spain, Switzerland and the UK.



For more information on Murata, please visit: www.murata.com. You can also follow us on Twitter @MurataEurope or LinkedIn http://www.linkedin.com/company/murata-electronics, or join us on Facebook at http://www.facebook.com/MurataElectronics.

More from Agricultural & Farming Products