High Output Batteries feature cold cranking amp capability.
Press Release Summary: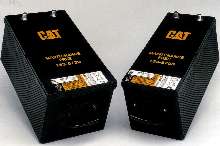 Premium High Output Batteries are maintenance-free with calcium lead alloy technology on both positive and negative plates. Plates are secured to container bottom and locked at top of cell for vibration resistance. Flat top design eliminates lost or leaking vent caps. Rated at 0°F, BCI Group size 4D has 1,400 CCA rating and 8D has 1,500 CCA rating. Batteries are suited for construction/mining equipment, marine, electric power generation, and vehicle applications.
---
Original Press Release:
Cat® Premium High Output Batteries Offer Higher Ratings
The Caterpillar line of maintenance-free Premium High Output (PHO) batteries is now available with industry-leading Cold Cranking Amp (CCA) capability for a variety of construction/mining equipment, marine, electric power generation and vehicle applications. The new, higher CCA capability is available for Battery Council International (BCI) Group sizes 4D and 8D. The Caterpillar® 4D battery now has a 1400 CCA rating and the 8D has a 1500 CCA rating. The increased CCA ratings are at 0° F (-18°C) and are among the highest 4D and 8D maintenance free battery ratings offered worldwide in the industry. Maintenance-Free 4D and 8D Premium High Output Batteries Caterpillar offers a line of batteries that are truly maintenance free, with calcium lead alloy technology on both the positive and negative plates for minimal water loss. The plates are secured to the container bottom and locked at the top of the cell for maximum vibration resistance. The robust container, with embossed Caterpillar logo and part number, resists the demanding, rugged treatment typical of heavy-duty commercial use-especially in temperature extremes. These unique batteries have an exclusive "flat top" design, eliminating lost or leaking vent caps. Cat PHO batteries are designed to meet stringent Caterpillar performance specifications, which include the following: o 100-hour Vibration Endurance test - a requirement five times longer than the worldwide industry standard. o Five, 72-hour Deep Discharge/Recharge cycle test - requiring the battery to recover to 25 charging amps within 20 minutes. o 30-day Complete Discharge test - requiring the battery to recover to 25 charging amps within 60 minutes. o SAE J2185 Life Cycle test - subjects battery to deeper discharge and charge cycles, at extreme temperatures not normally encountered in starting a machine, gen-set or vehicle. Premium High Output batteries are also available in BCI Groups sizes 74, 65, 58, 31 and 24 for a variety of demanding applications. These maintenance-free batteries also have industry-leading CCA and reserve capacity ratings. For more information, customers can contact their local Cat dealer or visit the Caterpillar web site at www.cat.com
More from Material Processing