High Gain Amplifiers suit commercial/military radar applications.
Press Release Summary: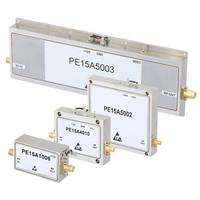 Supplied in hermetically sealed, metal enclosures, L and S band high gain amplifiers cover 1.2–1.4 GHz and 3.1–3.5 GHz frequency ranges used for commercial and military radar applications as well as observation satellites and communications systems. These RF amplifiers utilize hybrid microwave IC design and advanced GaAs pHEMT technology to produce unconditionally stable module. Other features include built-in voltage regulation, bias sequencing, and reverse bias protection.
---
Original Press Release:

High Gain Amplifiers for Commercial and Military Radar Released by Pasternack



Pasternack Adds Line of L and S Band High Gain Amplifiers Covering 1.2 - 1.4 GHz and 3.1 – 3.5 GHz



Irvine, CA — Pasternack Enterprises, Inc., an industry leading manufacturer and supplier of RF, microwave and millimeter wave products, releases a new portfolio of L and S band high gain amplifiers covering 1.2 - 1.4 GHz and 3.1 – 3.5 GHz specifically used for commercial and military radar applications as well as observation satellites and communications systems.



Pasternack's new high gain amplifier modules are optimized for 1.2 – 1.4 GHz and 3.1 – 3.5 GHz radar applications, packaged in hermetically-sealed metal enclosures and exhibit outstanding performance in high gain, gain flatness, high output power and low noise. These RF amplifiers utilize a hybrid microwave integrated circuit design and advanced GaAs pHEMT technology to produce an unconditionally stable module. They are also designed with built-in voltage regulation, bias sequencing, and reverse bias protection for added reliability and over-voltage protection is installed externally for easy repair.



A total of six new L and S band high gain amplifiers are offered in this latest release from Pasternack. Two of those products are low noise amplifiers (LNA) which demonstrate noise figure performance of 1.1 dB to 1.5 dB at high gain levels of 40 dB typical gain while also exhibiting excellent gain flatness. Also offered are 10 Watt and 20 Watt high power amplifiers that have exceptional gain performance of 40 – 47 dB with 1.0 dB to 1.5 dB gain flatness. Pasternack is also releasing an L-band driver amplifier that displays solid gain performance of 47 dB while delivering competitive gain flatness of 1.5 dB.



"The introduction of our new GaAs-based high gain amplifiers provides our customers a comprehensive portfolio of amplifier solutions for use in the L and S frequency bands for commercial and military radar applications", says Michael Rachlin, Active RF/microwave Products Manager at Pasternack. "The rapid growth of our active component product lines illustrates Pasternack's new strategy to become a leading supplier of active products in the availability market."



The new 1.2 – 1.4 GHz and 3.1 -3.5 GHz high gain amplifiers from Pasternack are in stock and available to ship the same-day. For additional details, visit http://www.pasternack.com/pages/Featured_Products/l-and-s-band-high-gain-amplifiers.htm. Pasternack can be contacted at +1-949-261-1920.



About Pasternack

A leader in RF products since 1972, Pasternack is an ISO 9001:2008 certified manufacturer and supplier that offers the industry's largest selection of passive and active RF, microwave and millimeter wave products available for same-day shipping.



Press Contact:

Shaun Gameroz

Pasternack Enterprises, Inc.

17802 Fitch

Irvine, CA 92614

(949) 261-1920

More from Controls & Controllers