Electrical / Electronic Probes
High-Frequency Test Probes offer rise time of 0.9 ns.
Press Release Summary: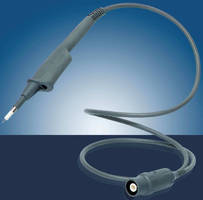 Compatible with all oscilloscopes, Isoprobe® III high-frequency (250-500 MHz) test probes have coaxial connecting cable with low capacitance. Flexible PVC insulated coaxial leads terminate in BNC plug with integrated compensation unit. Most models have 10:1 dividing ratios, and 100:1 probe is available for measurements on sensitive circuits. Along with input capacitance as low as 12 pF, these passive probes feature ergonomic design and are touch protected to 1,000 V, CATIII.
---
Original Press Release:

Fast Rise Times with High Frequency Test Probes from Multi-Contact



Multi-Contact has launched the third generation of its renowned Isoprobe(R) high frequency test probes. The Isoprobe III probes have a coaxial connecting cable with particularly low capacitance, which combined with changes to the interior of the probe, produce an extremely low input capacitance and rapid rise times.

The highly flexible PVC insulated coaxial leads terminate in a BNC plug with integrated compensation unit. The ergonomic design of these passive probes makes them easy to use, particularly when working with small components.

Most models in the Isoprobe III range have 10:1 dividing ratios, while a 100:1 probe is available for measurements on sensitive circuits. Frequency ranges are up to 250 to 500 MHz. Input capacitance for the basic probes is as low as 12 pF, with a rise time of 0.9 ns.

A range of probe sets are available including push on accessories such as adapters, clips and converters for applications such as bridging long distances and testing busbars. The probes are compatible with all oscilloscopes.

The safety probes are touch protected to 1000 V, CATIII (600 V, CATIV) according to IEC / EN 61010-031:2002. A 2 mm diameter safety socket for connecting a reference lead is provided in the handling part of the probes.

Milton Keynes based Multi-Contact (UK) Ltd is a wholly owned subsidiary of Multi-Contact AG Basel, the leading Swiss manufacturer of precision electrical and electronic connectors owned by Stubli AG.

Multi-Contact develops and manufactures state of the art connector technologies ranging from miniature electronic PCB connectors through to large electrical power connectors, including standard and custom designed solutions.

Applications include power generation and distribution, signal and data processing, and pneumatic and fluid distribution for a wide range of automation, process control, traction and computing requirements.

Multi-Contact connectors are used in medical and health monitoring instruments, test and measurement instruments, telecommunication installations, supercomputers, robotic docking systems, high speed trains, photovoltaic systems and many other products.

Linda Kelly
Multi-Contact Ltd
Tel: +44 (0) 1908 265544
Fax: +44 (0) 1908 262080
Email: l.kelly@multi-contact.com
Web: www.multi-contact.com

Multi-Contact Ltd, 3 Presley Way, Crownhill, Milton Keynes, Buckinghamshire, MK8 OES, UK

More from Construction Equipment and Supplies