High-Frequency Amplifier provides dual feedback.
Press Release Summary: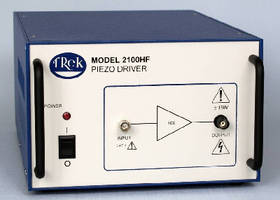 Featuring solid-state design, Model 2100HF controls output voltages from 0 to ±150 Vdc or peak AC, with output currents of 0 to ±300 mA, signal bandwidth to 2.6 MHz, and 2,000 V/µs slew rate. Four-quadrant, active output stage sinks/sources current into reactive or resistive loads throughout output voltage range. With dual feedback design that assures no overshoot or instability of waveform, device is suited for applications in MEMS and electro-optics, materials research, and piezoelectrics.
---
Original Press Release:

TREK, INC. Introduces New High-Frequency Amplifier at APS Physics Meeting



Model 2100HF Delivers High-Frequency, High-Speed, Wide-Bandwidth Performance for Applications in MEMS and Electro-Optics, Materials Research & Piezoelectrics

(Medina, NY, USA) - TREK, INC., a designer and manufacturer of high-voltage power amplifiers and high-performance electrostatic instrumentation, will introduce a new High-Frequency Amplifier - Model 2100HF - at the American Physical Society (APS Physics) March Meeting being held in Dallas, Texas on March 21-23, 2011. Model 2100HF will be featured at Trek's Booth #434.

Trek Model 2100HF delivers high-frequency, high-speed, wide-bandwidth performance for use in Micro-Electro-Mechanical Systems (MEMS) as well as electro-optic, materials research, metrology, piezoelectric and ultrasonic applications. This new HF amplifier will enable technological advancement across a diverse group of industries such as aerospace, automotive, semiconductor, telecommunications, and many others.

Model 2100HF provides precise control of output voltages from 0 to +/-150V DC or peak AC, with output currents of 0 to +/-300 mA, large signal bandwidth capabilities to 2.6 MHz (-3dB), and typical slew rates of 2000 V/us. Small signal bandwidth is greater than 3 MHz (-3dB) and full power frequency response of the amplifier is essentially flat up to 2 MHz.

The unique dual feedback design of the unit assures that no overshoot or instability of the waveform occurs, assuring accurate output signal response over a wide range of frequencies and loads. The all-solid-state design of Model 2100HF provides high reliability, low noise operation, and delivers accurate output response, high slew rates and fast settling when driving capacitive loads.

Specific applications for Model 2100HF include MEMS devices as well as dielectric material characterization, electro-optic modulators, laser modulators, ion beam control, piezoelectric driving/control, and ultrasonics.

The industries and commercial applications that will benefit from the advancements enabled by Trek Model 2100HF are diverse and include: aerospace, automotive, biotechnology, defense, electronics, energy, instrumentation, laboratory, military, power, semiconductors, and telecommunications.

The High Frequency Amplifier Model 2100HF offers: DC stability, wide bandwidth, well-regulated and controlled AC output signals, and full four-quadrant, class AB, all-solid-state output stages. The four-quadrant, active output stage sinks or sources current into reactive or resistive loads throughout the output voltage range. This is essential for achieving the accurate output response and high slew rates demanded by reactive loads. The unit is also CE marked.

The product data sheet is available at: www.trekinc.com/products/2100HF.asp
Or go directly to: www.trekinc.com/pdf/2100HF_Sales.pdf

For design options, pricing, and delivery information please email Trek at sales@trekinc.com or call USA 585-798-3140.

To learn about Trek's other amplifiers go to: www.trekinc.com/products/HV_Amp.asp

For information about the APS Physics March Meeting: www.aps.org/meetings/march/index.cfm

TREK, INC. (est. 1968) is a privately held company that designs, manufactures and sells high performance electrostatic measurement instruments, sensors & monitors, and high voltage amplifiers, power supplies & generators. Trek's products are used by OEMs involved in semiconductor manufacturing and electrophotography; in applications sensitive to electrostatic discharge (ESD); and by companies and universities involved in a wide variety of research applications, including electrostatics, electrophotography, piezoelectrics, electrohydrodynamics, and plasma chemistry. Customers include numerous Fortune 500 companies and leading universities. For more information email sales@trekinc.com, call USA 585-798-3140 or go to www.trekinc.com .

More from Packaging Products & Equipment