High Flow Valves feature high conductance design.
Press Release Summary: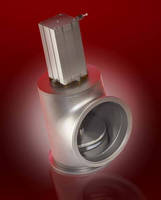 Offering life of over 1,000,000 cycles, High Flow Valves feature corrosion resistant 304 stainless steel vacuum grade, fusion welded, and beaded blasted body. They can be heated to 185°C to prevent process byproducts from condensing in valve, while edge-welded bellows prevent out-gassing and virtual leaks. Available in sizes NW160 (6 in.), NW200 (8 in.), NW250 (10 in.), and NW320 (12 in.), valves can be mounted vertically or horizontally to accommodate any footprint requirement.
---
Original Press Release:

MKS Introduces High Flow Valves High Conductance, Durable Design Meets High Performance Requirements



Andover, MA, - MKS Instruments, Inc. (NASDAQ: MKSI), a global provider of technologies that enable advanced processes and improve productivity, has introduced High Flow Valves, featuring a high conductance design that meets high flow requirements where reliable isolation is needed. HFV valves are ideally suited for semiconductor manufacturing, flat panel tools, solar tools, coaters and general high flow (large pump line diameter) manufacturing applications. HFVs have a smaller profile, and are lighter, lower in cost, and easier to maintain than similar valves on the market. Produced using the latest manufacturing techniques and highest quality materials, the HFVs are extremely durable and dependable. Lifetime can extend to 1,000,000 cycles for all sizes, greatly increasing system uptime.

Edge-welded bellows prevent out-gassing and virtual leaks, and maximize stroke length to maintain high conductance. To accommodate any footprint requirement, the HFV valve can be mounted vertically or horizontally without effect to its isolating seal performance. HFV valves also can be completely disassembled in the field, resulting in lower replacement parts costs and easier maintenance.

HFV valves feature a 304 stainless steel vacuum grade, fusion welded, beaded blasted body that resists corrosion and has fewer entrapment areas for high purity. They can be heated to 185ºC to prevent process byproducts from condensing in the valve. To accommodate different process temperatures and composition requirements, a variety of elastomer seals are available, including Viton®, Chemraz®, Kalrez®, and Perlast®. HFV valves are available in sizes NW160 (6"), NW200 (8"), NW250 (10"), and NW320 (12").

About MKS:

MKS Instruments, Inc. is a leading, global provider of technologies to power, control, deliver, monitor, measure and analyze advanced processes in high growth markets. Our primary served markets are manufacturers of capital equipment for thin film applications including semiconductor devices, flat panel displays, light emitting diodes (LEDs), solar cells, data storage media and coatings, as well as medical equipment; energy generation and environmental monitoring processes; biopharm and other industrial manufacturing; and university, government and industrial research laboratories.

Corporate contact:

MaryAnn Naddy

Phone: 978-645-5538

Fax: 978-557-5100

MaryAnn_Naddy@mksinst.com