High Five - Key SECO/VACUUM Deliveries in The USA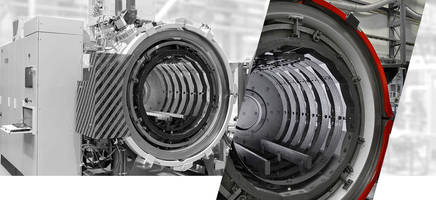 SECO/VACUUM, a SECO/WARWICK Group Company, emerged from the global shake-up of 2021 stronger than ever, enabling them to hit the ground running in 2022. They didn't just keep pace; they were able to build on that momentum, so much so that they outgrew their building and had to move into a larger facility.
The following is a highlight reel of some of the many vacuum furnaces commissioned in 2022.
1. A global manufacturer of electronic components with engineering centers and factories worldwide installed a vacuum tempering furnace at one of its plants in Pennsylvania.
With a chamber of 48" x 48" x 72" deep, the furnace is being used to anneal copper and steel electrical connectors used in subsequent assemblies. The new equipment delivers added capacity to meet increased demand for the company's products. The furnace includes a turbo-cooling feature designed to improve turnaround time from batch to batch and maximize throughput.
2. Global aircraft industry supplier is now running a new Vacuum Brazing Furnace
SECO/VACUUM commissioned a vacuum aluminum brazing (VAB) furnace at an international aircraft component supplier. The furnace is designed to meet tight temperature tolerances of +/-3 deg C, incorporating a powerful high vacuum system with a diffusion pump.
The new furnace joins other SECO/WARWICK Group vacuum furnaces installed at this location. The prior acquisitions provided a basis of credibility because of their successful performance; however, the decision to go with SECO/VACUUM hinged as much on the supplier's newer proven technologies and their collaborative approach to accommodate the customer's unique requirements.
3. Watlow Electric Manufacturing Company celebrated its centennial in 2022 by installing a new Vector® high-vacuum furnace at its Plant in Mexico.
The furnace is annealing thermocouple wires between each drawing stage. High purity is important in order to maintain the perfect surface quality of the wire and this Vector HPGQ 6-bar furnace is the optimal solution for the task.
A complete vacuum heat treat package
The Vector® furnace for this application has a working zone size of 40"x40"x48" with a 1.5 ton load capacity. The furnace package includes customized diffusion-vacuum, cooling, loading, and quenching systems.
The furnace is customized with an oversized work zone since the standard 36"x36"x48" zone size was too small for their needs. Some degree of customization is often requested of SECO/VACUUM since it is one of the known strengths of the company.
4. An international aircraft controls manufacturer commissioned a new low-temperature vacuum furnace for tempering, aging, and other processes. SECO/VACUUM's Vacuum tempering furnaces assure bright part surfaces after treatment in lower temperatures.
This is the fifth vacuum furnace operating in multiple facilities in the USA and Asia. The furnace meets class 2 TUS requirements per AMS2750F +/-10°F and is capable of Nitrogen convection heating and cooling.

The solution is perfect for applications with process temperatures up to 1400°F and where product surface purity is required. The furnace can realize low-temperature processes under vacuum and in nitrogen convection. Cooling – the final stage of every heat treat cycle – is completed using an internal recirculation blower and an internal, water-cooled heat exchanger.
5. Major U.S. manufacturer of stainless pipe, valve & tube fittings, collaborates on a special nitriding furnace
SECO/VACUUM installed a nitriding furnace at a manufacturer of stainless-steel fittings to conduct a special surface hardening process using a technology developed by the Danish company, Expanite®.
"It was a truly blockbuster year for SECO/VACUUM, with too many newly commissioned furnaces to list them all. These five installations highlight our worldwide reputation for excellence, expanding our support for the vacuum heat-treating needs of industry-leading multinational manufacturers and forging unique new collaborations with existing domestic partners as well" – summarized Piotr Zawistowski, Managing Director of SECO/VACUUM
Related