High-Feed Milling Inserts work on range of materials.
Press Release Summary: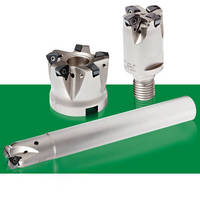 Based on WIDIA-Hanita(TM) X-Feed(TM) geometry, WIDIA(TM) M270(TM) Series features 2 contact faces in V-shaped pocket design to promote secure, rigid insert clamping and accurate positioning. Grade TN2505(TM) exhibits wear resistance in materials to 60 HRc, TN6540(TM) exhibits additional toughness, and TN6525(TM) suits dry-machining applications in steel. Also available, WIDIA M370(TM) Series offers double-sided, high-feed concept with 6 cutting edges for steel, stainless steel, and cast-iron milling.
---
Original Press Release:

Boost High-Feed Milling Performance with New WIDIA M270(TM) and M370(TM) Series Inserts



(LATROBE, PA) - Successful high-feed milling is characterized as using small depths of cut at high federates per tooth, with the result being higher metal-removal rates and increased productivity. As opposed to traditional milling, high-feed milling generates lower radial cutting forces, making it an attractive concept for roughing, copy milling, profile milling, and other applications necessitating quick removal of metal, even where longer reach is required.

WIDIA(TM) is introducing two new insert families specifically designed for successful high-feed milling: the M270(TM) Series and M370(TM) Series.

WIDIA M270 inserts are designed based on WIDIA-Hanita(TM) X-Feed(TM) geometry. "This is a proven edge and geometry for high-feed machining, with good results across a range of materials," says Juan Seculi, Global Product Manager, Indexable Milling at Kennametal. Three grades are available: TN2505(TM) for good wear-resistance in materials up to 60 HRc hardness; TN6540(TM) for added toughness; and TN6525(TM), a mix of toughness and wear-resistance for dry-machining applications in steel.

Two contact faces in a V-shaped pocket design help ensure the secure and rigid insert clamping and accurate insert positioning that improves cutting performance and tool life.

The WIDIA M370(TM) Series is a double-sided high-feed concept that combines the latest in insert technology with outstanding performance and reliability for steel, stainless steel, and cast-iron milling. Designed for high-feed-rate productivity, its double-sided concept and six cutting edges provide security and optimal metal removal with an efficient cost per edge.

"The M370 Series features an MH geometry offering the protection of a flat-top insert, but with reduced cutting forces, and an MM geometry specifically for stainless steel, or optimization where even lower cutting forces are required" Seculi says. "Even running at existing parameters, the M370 offers longer tool life and free-machining characteristics."

Both M270 and M370 Series are available in inch and metric sizes and are included in WIDIA's latest "Advances 2012" catalog, available for download from the WIDIA website. For the latest WIDIA information, visit www.widia.com and follow the company on Twitter® (@widiaproductgrp). More is also available on Facebook® (www.facebook.com/WIDIAProductGrp), and YouTube® (www.youtube.com/WidiaSolutions).

WIDIA-brand products and services have defined innovation in the metalcutting industry for more than 80 years - from the world's first patent for carbide indexable inserts to the development of the world's first coated grades. The WIDIA brand offers a complete portfolio of precision-engineered products and custom solution services. With thousands of milling, turning, holemaking, and tooling systems products available through a worldwide network of authorized distributor partners, you'll find everything you need from one single source.

WIDIA Products Group; 800.446.7738

More from Optics & Photonics