High Energy Magnets target hanging signage.
Press Release Summary: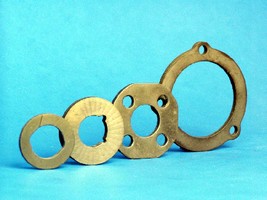 Available in sheets, strips, or die-cut shapes, Plastalloy® Strontium Ferrite magnets have multiple poles on each side, so both sides are equally strong, eliminating orientation concerns. Lead-free units do not lose magnetic strength when bent, twisted, or flexed. With pressure sensitive adhesive, customized formulations, and special cutting techniques, Plastalloy magnets are suited for many types of signage and Point-of-Purchase applications.
---
Original Press Release:

High Energy Magnet Simplifies Construction of In- Store Hanging Signage



Cincinnati, OH - Flexible magnets are commonly used for Point-of-Purchase and In-Store signage applications. But all magnets are not created equal - nor should they be used for the same purposes as one in-store signage manufacturer found.

In general, flexible magnets fall into two categories - low energy (less than 1.0 MGOe) and high energy (more than 1 MGOe). "Often, when customers think of flexible magnets they think of "fridge magnets," comments Ken Koch from magnet manufacturer The Electrodyne Company. "Refrigerator magnets are normally low energy material with one strong side and one weak side. High energy magnets are anisotropic, so both sides are equally strong. This means that they can be customized for a far greater range of applications," continues Koch.

Low energy magnet applications include bin tags, magnetic signs, and holding graphics. High energy magnets are used where more holding force is required, so they are used for applications like shelf dividers, sign bases, display toppers, hanging sign holders, holders for individual packs of cigarettes, and more.

In addition to increased holding force, high energy magnets can be easily machined to custom sizes and shapes. "High energy magnets allow a product manager to realize their marketing display goals more easily due to their versatility, and ease of fabrication," says Koch. "They are available domestically in an infinite variety of thicknesses, widths and with customized magnetization patterns to suit particular application requirements" concludes Koch. Magnetic strength was just one aspect that enticed a major manufacturer of in-store signage to use high energy magnets.

Fewer Pieces, Faster Assembly
In-store hanging signs surround us, but while we notice their message we rarely note the sign holder. Most often it is an extruded bracket with a magnet affixed to one end. The magnet holds the sign holder (with sign installed) onto the ceiling for all to see. Without proper magnetic holding force, the signage can fall down. When that happens, a best case scenario is that the fallen sign is noticed quickly and re-installed. Most often, however, signs that fall are creased or damaged, and new brackets may be required to re-install the sign. A major manufacturer of in-store signage and point-of-purchase displays uses a high energy magnet (1.1 MGOe) for greater holding force, and a simpler, cleaner bracket design.

The original design employed a magnet with a metal backing plate - a common means of boosting magnetic attraction. Though effective, this complicates the manufacturing process because extra steps are required to cut the strips to the correct size, and then glue them onto the bracket.

The new design features Plastalloy® Strontium Ferrite magnets that equal or exceed the holding power without the metal strip. Eliminating the metal strip and the adhesive to apply it makes for a simpler, cleaner design that is easier to build. Since lead-free Plastalloy® has multiple poles on each side, both sides are equally strong - so there are no orientation concerns. This further speeds the placement and gluing of the high energy magnets.

Delivering a Winning Message
The end result, a finished product with great holding power fabricated with lower production and material costs while increasing plant efficiency, was truly a winning combination.

Available in magnet sheets, strips or die-cut shapes, high energy Plastalloy® does not lose any magnetic strength when it is bent, twisted or flexed. These properties, along with options including pressure sensitive adhesive, polarity identification, customized formulations, and special cutting techniques, make it ideal for many types of signage and Point-of-Purchase applications. A major coffee retailer has turned to high energy magnets for their table-tents, and cigarette manufacturers have switched to high energy magnets for their in-store Point-of-Purchase cigarette pack displays.

Simplified production is certainly good news for the manufacturer, while improved performance is a welcome addition to the customers. Since shoppers can continue on their rounds without having to step over fallen signage, this a winning program for all. That is especially important when the success is due to a component as inconspicuous as the high energy magnets that hold the project together.

About Electrodyne
With over thirty years of experience and nearly 50 patents awarded to them, The Electrodyne Company Inc., is an industry leader in magnetic material design and manufacturing. Their fully equipped lab can perform testing to include magnetic hysteresis, magnetic field mapping, tensile strength, elongation, gauss measurements, heat aging, pull testing, and more. All facilities are ISO 9001/2000 registered for quality assurance. For more information contact The Electrodyne Company, Inc., 4188 Taylor Road, Batavia, OH 45103, visit www.edyne.com, or call (513) 732-2822.

In addition to usage within the P-O-P and signage industries, Plastalloy(TM) is certified for the extremes of most automotive applications including exposure under the hood, and inside the engine, transmission and differential. It is also suitable for custom encoders and speed sensing magnets, as well as Hall Effect and other magnetically actuated switches, coin dispensing machines, spring overriding devices, electron beam deflection, appliances, and other commercial and industrial applications. Lead free Plastalloy(TM) is ideal for environmentally sensitive applications.