High-Density Interconnect handles data rates to 40 Gbps.
Press Release Summary: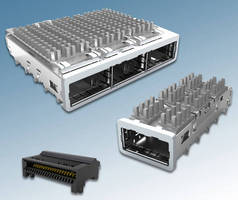 Designed for telecommunications, data center, and networking applications, EMI-protected zQSFP+ connector and cage assembly meets Next-Gen 100 GbE and 100 Gbps 4X InfiniBand EDR requirements by offering 4 lanes of high-speed differential signals with data rates from 25-40 Gbps. Design featuring coupled, narrow-edged, blanked- and formed-contact geometry with insert molding promotes signal integrity, while staggered press-fit pins accommodate belly-to-belly applications.
---
Original Press Release:
TE Connectivity Announces Availability of the zQSFP Plus High-Speed, High-Density Interconnect for Data Rates Up to 40 Gbps
HARRISBURG, Pa. - TE Connectivity announces availability of the new zQSFP+ (z-Quad Small Form-factor Pluggable Plus) connector and cage assembly - a high-density, high-speed product solution designed for the telecommunications, data center and networking markets. This new interconnect will meet next-generation 100-Gbps Ethernet (100 GbE) and 100-Gbps 4X InfiniBand Enhanced Data Rate (EDR) requirements by offering four lanes of high-speed differential signals -- with data rates ranging from 25 Gbps up to potentially 40 Gbps. For quick-and-easy system upgrades, the zQSFP+ interconnect is backwards-compatible with current QSFP+ optical modules and cable assemblies. Designed with an enhanced electromagnetic interference (EMI) cage, the connector helps provide excellent thermal performance and EMI protection. In addition, the zQSFP+ product offers superior signal integrity as well as superior mechanical and electrical performance through a preferential coupling design -- i.e. coupled, narrow-edged, blanked- and formed-contact geometry with insert molding. Users will see PCB space-savings with this new connector as its staggered press-fit pins accommodate belly-to-belly applications - enabling the use of both sides of a PCB. Additionally, the connector's housing is made from high-temperature, thermoplastic material to withstand lead-free processing. Mechanical characteristics include a mating force of 40N, durability of 250 cycles (minimum) and an operating temperature ranging from -20 to +65 degrees Celsius. The connector's electrical current rating is 0.5 Amps per pin with a maximum voltage rating of 30 VDC. Product offerings include 1x1 single port and 1x3 ganged cages with heat sink and light pipe options. Target applications include cellular hubs, servers, switches, network interfaces, power supplies, medical diagnostic equipment, and test and measurement equipment. The connector can also be used in current 10-Gbps and 16-Gbps applications with substantial margin. To learn more about the zQSFP+ connector and cage assembly, or to download product and application specifications, visit www.te.com/products/zqsfpplusgo , or contact the Product Information Center at 1-800-522-6752 for more information. About TE Connectivity TE Connectivity is a global, $14 billion company that designs and manufactures approximately 500,000 products that connect and protect the flow of power and data inside the products that touch every aspect of our lives. Our nearly 100,000 employees partner with customers in virtually every industry-from consumer electronics, energy and healthcare, to automotive, aerospace and communication networks-enabling smarter, faster, better technologies to connect products to possibilities. More information on TE Connectivity can be found at http://www.te.com. TE Connectivity, TE connectivity (logo) and TE (logo) are trademarks. Other logos, product and/or Company names might be trademarks of their respective owners. zQSFP+ is a part of the ZXP® family of connectors and uses the ZXP technology. ZXP is a registered trademark of Molex Incorporated.
More from Test & Measurement