High-Density Fiber Optic Modules increase data center efficacy.
Press Release Summary: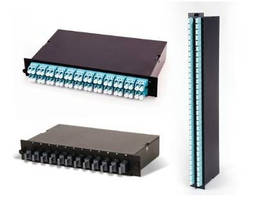 Suited for port replication, Skinny-Trunk modules let Arista Networks (Arista) and Brocade users replicate existing footprint in data centers while increasing efficiency and facilitating cable management. Products include 120G/10G Module for Arista MXP Transceiver, 120G/40G Module for Arista MXP Transceiver, and 64-Port Module for Brocade Fibre Channel (FC) 16-64 Port Blade. Functionality also lets organizations migrating to higher speeds maintain current infrastructure where appropriate.
---
Original Press Release:

CABLExpress Introduces Fiber Optic Modules at Gartner Data Center Conference 2015



High-density modules enable port replication and help maximize data center investments



LAS VEGAS -- GARTNER Data Center Conference 2015 -- CABLExpress announced today from the Gartner Data Center Conference the launch of three fiber optic modules, which are compatible with Arista Networks (Arista) and Brocade solutions. The modules are ideal for port replication and enable improved efficiency in the data center, allowing organizations to maximize their technology infrastructure investments.



"The benefit of these modules is that they allow both Arista and Brocade users to replicate the existing footprint in their data centers, providing increased efficiency and easier cable management," said Peter Belyea, president of CXtec, the parent company of CABLExpress. "In addition, organizations that are in the process of migrating to higher speeds can maintain their current infrastructure where it makes sense and still effectively communicate with all devices."



The new modules are part of the CABLExpress Skinny-Trunk Solution, a high-density fiber optic cabling system:

--  120G/10G Module for Arista MXP Transceiver

-  Adapts the 24-port MTP(®) to 12 LC connectors at 10 gigabits (G) each

-  Enables the Arista MXP port to be split into standards-based 10GBASE-SR LC connectors when using SR or SRL optics over multi-mode OM4 fiber infrastructure

--  120G/40G Module for Arista MXP Transceiver

-  Adapts the 24-port MTP to three MTP connectors at 40G each

-  Enables the Arista MXP port to be split into standards-based 40GBASE-QSFP connectors when using SR or SRL optics over multi-mode OM4 fiber infrastructure

--  64-Port Module for Brocade Fibre Channel (FC) 16-64 Port Blade

-  Replicates the Brocade FC16-64 port blade using QSFP ports where an MTP connector supports four channels

-  Supports 64 LC 16G ports per card



The Skinny-Trunk modules are the latest in port replication products that CABLExpress has developed to help address the cable management issues and potential for downtime that arise due to higher bandwidth demands and increasing fiber optic port counts. CABLExpress also introduced its 10U 8-slot fiber optic enclosures earlier this year.



To learn more and to download a white paper on the benefits of port replication, visit www.cablexpress.com/replication.



About CABLExpress(®)

CABLExpress, a division of CXtec, has manufactured high-performance cabling and data center infrastructure products and structured cabling solutions for more than three decades. The CABLExpress Skinny-Trunk(®) Solution is a high-density, fiber optic product line that helps organizations maximize business value and prepare their layer one infrastructures for future generations of upgrades. For more information, visit www.cablexpress.com.



About the Gartner Data Center, Infrastructure & Operations Management Conference 2015

As the digital wave advances, I&O leaders must act quickly to create an enterprise data center strategy that's ultra-agile, scalable and responsive to change. Join us for a practical approach to I&O modernization where cloud, virtualization, automation, DevOps, bimodal, software-defined anything and mobile can replace rigid--and increasingly outdated--infrastructure. Additional information is available at:  www.gartner.com/events/na/data-center.



Media Contact:

Jamie King

PR & Communications, CABLExpress

315-883-3673

jking@cablexpress.com



On-site Contact

Renee Duffy

Marketing Director, CABLExpress

315-416-1335

rduffy@cxtec.com

More from Sensors, Monitors & Transducers