High Definition 3D Imager suits stereomicroscopy.
Press Release Summary: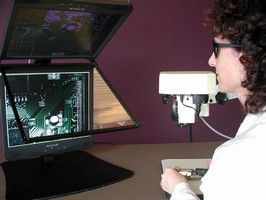 Compatible with installed base of stereomicroscopes, TrueVision(TM) 1000 provides real-time visualization and digital image processing at full high-definition resolution in 3D for scientific, medical, and industrial applications. Product displays images on monitors or projection screens, allowing operator and onlookers to observe. Comprised of Sensor Module, Image Processing Unit, and Display System, product offers frame rates to 60 Hz progressive @ 1,280 x 720.
---
Original Press Release:

Micro Vision Systems Announces the First Real-Time High-Definition 3D Imaging Product for Stereomicroscopy



TrueVision(TM) is First to Provide Digital 3D Imaging Solutions In High-Definition for Science, Medicine and Industry

SANTA BARBARA - Micro Vision Systems, Inc. (MVSI) announced today that it has launched TrueVision(TM), a real-time, high-definition, 3D image capture and display system for stereomicroscopes. The TrueVision 1000 product is the first and only system available today that provides real-time visualization and digital image processing at full high-definition resolution in 3D for science, medicine, and industry. Instead of what is normally seen only by the one person looking into the microscope's eyepieces, the product displays the images on monitors or projection screens allowing the operator and onlookers to comfortably observe what is happening.

TrueVision eliminates neck, shoulder, and back stress or injury and meets the rigorous demands of surgical, technical laboratory, and inspection applications. The microscope operator, such as a technician, researcher or surgeon, no longer has to hunch over a microscope to work but instead positions the screen where it is most comfortable. The image displayed by TrueVision is so clear that eyepieces are no longer required on the microscope.

The patent-pending system is designed for all stereo microscopy applications and is compatible with the installed base of most stereomicroscopes used today. The product comes complete with a Sensor Module, Image Processing Unit, and Display System. The Sensor Module replaces eyepieces on a microscope and connects to the Image Processing Unit that displays the high-resolution image to a 3D monitor or projector. The Display System can be configured with a high-definition monitor, a rear-projection big screen or both. TrueVision also features the ability to store images at the touch of a button for record keeping, documentation, and sharing without giving up the resolution, color, and stereo depth found in the original optical image.

Stereoscopic microscopy is an essential tool in many areas of technical visualization where a magnified, three-dimensional image is needed for depth perception, hand-eye coordination, and object recognition in applications such as surgery, precision assembly, industrial inspection, and biological research. TrueVision displays rich content to audiences in virtually all aspects of technical imaging that use stereo microscopes. These include:

o Manufacturing (failure analysis, assembly, and inspection),
o Medicine/dentistry (surgery, examinations, archiving, telemedicine),
o Research (biomedicine, natural sciences, materials),
o Education (classrooms, museums, training, teaching)

Throughout 2005 a number of clinical trials were performed proving that surgeons were able to conduct microsurgery successfully using TrueVision without looking into a microscope. The industrial application trials were equally successful when TrueVision was used in cleanroom wafer inspection facility and in a variety of other laboratory situations.

"I used TrueVision in an operation doing a challenging resecting of a lesion from the right vocal cord. In this case I got Dr. Park, our youngest resident with seven weeks of professional experience as a doctor to do the job. While this sounds a bit daring, I felt entirely comfortable, as with your system I could talk him through the operation and show him what to aim for," stated Dr. Justus Ilgner of the University of Aachen in Germany. "In fact, Dr. Park himself mentioned that the video resolution was the feature that thrilled him most. For me, it was the fact that neither of us was looking through the microscope, but that our youngest colleague went straight for the lesion and excised it without any delay or hesitation. By the way, I was teaching Dr. Park and the three medical students simultaneously. I am still thrilled by this experience. By the end of the day, it was nurses who asked me '...When can we have this back in theatre again?...' As soon as possible - so much is certain."

Brian Matsumoto, PhD, director of the Santa Barbara Integrated Microscopy Facility at the University of California, commented that "Micro Vision Systems has launched one of the most useful new products affecting microscopy since the advent of the digital age. I am very impressed with the TrueVision product. It allows users to share images of specimens long distance over the internet in rich 3D. The depth of field was greater than expected and better than what you see by looking directly into the microscope. It provides a convenient working environment for micromanipulation allowing relaxed placement of my hands to work with specimens. I really see TrueVision being useful for showing objects, like proteins, tissues, and cells up on a screen for lab work."

The company currently sells TrueVision direct to end-users and is in the process of signing up distributors and resellers worldwide for sales and support. In addition the company is kicking off its effort to license TrueVision technology to qualified partners in the various industry segments that includes OEM and value-added reseller arrangements.

TrueVision Specifications
Fitting Replaces the eyepiece module of existing CMO stereoscopic microscopes. Microscope functions do not change.
Alignment Procedure: None
Frame Rates: 60 Hz progressive @ 1280x720 (each eye)45 Hz progressive @ 1280x1024
Image Size: Designed to approximate view through eyepieces.
Field of View: Depends on magnification setting of the microscope.
Iris: Adjustable from full open to 1 mm - enables increased Depth of Field.
3D Near Display: Dual LCD monitors with 50-50 mirror 1280x1024 resolution
3D Far Display: Dual projectors with stand and screen1280x720 or 1280x1024 resolution

For the 3D displays, passive polarized glasses are provided.

About Micro Vision Systems
Micro Vision System, Inc. (MVSI) is a technology company located in Santa Barbara, California, that developed the patent-pending TrueVision(TM) system and other patent-pending technologies for a wide variety of commercial market applications in science, medicine, and industry. TrueVision is the first digital, high-definition, real-time, 3D imaging system for stereoscopic microscopy. For sales and other information please contact the company.

Micro Vision Systems, Inc.
402 East Gutierrez Street
Santa Barbara, 93101
Tel: (805) 879-5200
Web: (http://www.microvisionsystems.com)

TrueVision(TM) is a trademark of Micro Vision Systems, Inc. All rights reserved.

More from Fluid & Gas Flow Equipment