High Current Compression Lug from Amphenol is Certified to UL 1977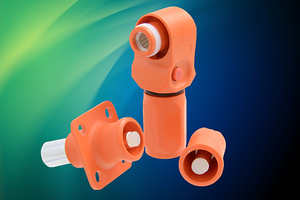 Sidney, N.Y., June 14, 2018 /PRNewswire/ - Amphenol Industrial Products Group, a global leader in interconnect systems, announces that its SurLok Plus line is now certified to UL 1977 in all sizes, including 5.7mm, 8.0mm and 10.3mm. 
Technical Specifications
Certified to UL 1977
Features RADSOK technology
Compact, flexible design
Quick connect and locking system
IP67 rated
Available in sizes 5.7mm, 8.0mm, and 10.3mm
Available in black, red, and orange
SurLok Plus is a high current compression lug designed to meet the needs of energy storage for commercial and residential battery storage systems, as well as electric and hybrid electric vehicles.  This quick connect and locking system is available in 3 termination styles including crimp, busbar lug and threaded post.
Used by inverter and power supply manufacturers, SurLok Plus is optimized for battery pack connections from 50 A to 400 A using a touch-safe interface.  This robust, low profile, right angle design, RADSOK connector is quick mating and significantly increases amperage while reducing insertion force, temperature rise and voltage drop.
SurLok Plus features a flexible design that accommodates dimensional constraints.  It is IP67-rated and comes in both sealed and unsealed versions. The sealed version offers an excellent environmental sealing to protect the system from the elements.
Delivery for SurLok Plus is 8 weeks ARO.
For full news release text and high resolution jpeg: http://bit.ly/UL1977
For more information, please visit http://www.amphenol-industrial.com or e-mail visam.chen@amphenol-industrial.com.
Follow us: https://twitter.com/AmphenolAIO
Get our updates: https://www.linkedin.com/company/amphenol-industrial
Editorial Contact:
The Simon Group, Inc.
Joanna Puglisi-Barley 
Phone:(215) 453-8700
E-mail:publicrelations@simongroup.com
Reference # APL-A-5288
Source Amphenol Industrial Products Group
Web Site: http://www.amphenol-industrial.com
More from Chemicals & Gases