High-Capacity Power Banks charge 2 devices simultaneously.
Press Release Summary: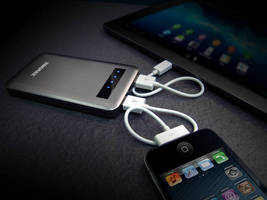 Model KEBG-M03 power banks feature 8,000 mAh capacity at 3.7 V and 6 hr charge time, while KEBG-M02 models have 6,000 mAh capacity at 3.7 V and 8 hr charge time. Both units include dual USB charging interfaces to charge 2 devices at once, while interfaces have 2.1 A efficiency. Products use compact, high-density polymer battery and integrate 4 LED power indicators. Casing is lightweight aluminum alloy with matte surface to resist dirt and high temperatures.
---
Original Press Release:

KINGMAX Launches Stylish, Lighten, and High-Tech Power Bank



Taipei – As the sales of smartphones and tablet PCs rapidly increases on the market, businessmen, students and commuters rely more and more on mobile electronic products. However, when these products run out of battery and cannot immediately be charged, it can get frustrating. Because of this, the global memory brand KINGMAX, has recently released the stylish, lightweight, and high capacity power bank, which is built with a 8000mAh battery and dual USB charging interfaces that allows two devices to be charged simultaneously; furthermore, 2.1A high efficiency USB interface can save valuable time on charging and satisfy the needs of consumers on high capacity portable power bank.



The KINGMAX power bank uses polymer battery. The features of being compact and high density solve the inconvenience of large and heavy high capacity power banks. In the exterior design, lightweight aluminum alloy with matte surface provides excellent dirt-proof and high temperature resistance with two colors "Cool Silver" and "Charming Gray" that expresses a high-tech and implicit style. The KINGMAX power bank comes in two high capacity options: the 8000mAh (KEBG-M03) and 6000mAh (KEBG-M02). The LED power conveniently shows the remaining charge at the mirror LED indicator on the case.



One of the features of KINGMAX power bank is "dual charging interface" function, which means that it is equipped with two USB output ports. In particular, KEBG-M03 includes a 1.0A and a 2.1A charging interface, able to charge two mobile devices at the same time (For example: charging a tablet PC and a mobile phone or two mobile phones simultaneously). Moreover, the most remarkable is that 3.1A will be come out when 1A and 2.1A outputs are charged at one time, and helps the charging more efficiency. KINGMAX is proud of this cutting edge technology to stand out in the power bank market.



The KINGMAX power bank, not only have strong, stylish and lightweight exterior design, the quality also meet or exceed RoHS regulation, CE, and FCC requirements to guarantee the highest quality for the products. With a powerful battery capacity of 8000mAh, it thoughtfully solves the consumer's insufficient power problem while outdoors; consumers no longer have to worry about not being able to charge their devices during a long trip. For more information, please visit the KINGMAX official website: http://www.kingmax.com/en-global/product/product/Model/KEBG-M02_03.



Product Features:

• Compact, high quality and stable polymer battery core with high capacity

• Durable and lightweight aluminum alloy casing with matte surface

• Charge two devices at the same time

• 4 LED power indicators built-in



Product Specifications:


| Product model | KEBG-M02 | KEBG-M03 |
| --- | --- | --- |
| Capacity | 6000mAh@3.7V | 8000mAh@3.7V |
| Input power | DC 5V/1A | DC 5V/1A |
| Output power | DC 5V/1A/2A | DC 5V/1A+2.1A |
| Dimensions | 122 x 67 x 12 mm | 122 x 67 x 15 mm |
| Weight | 153 g | 193 g |
| Charging time | 6 hours | 8 hours |
| Color | Charming Gray/Cool Silver | Charming Gray/Cool Silver |



About KINGMAX

KINGMAX Group is the world's first RAM/memory card module manufacturer to feature vertical industrial integration capabilities, solid R&D capability and innovative, cutting-edge patented technology. KINGMAX entered the portable power bank market in 2010. KINGMAX believes that "Quality comes from perfection in technology", and its mission is to offer innovation and perfection in all its products. All KINGMAX products undergo rigorous testing before launching in the market to ensure the highest quality, and with their lifetime warranty you can be completely assured that KINGMAX products are your best choice. For more information, please visit the KINGMAX official website at: www.kingmax.com.



Please join the KINGMAX facebook global page: www.facebook.com / kingmax.global



Media Contact

Pei-Chieh Wu

Marketing Dept. Brand Marketing Div.

KINGMAX Digital Inc.

E-mail: cherry.wu@kingmaxdigi.com.tw

TEL: 886-2-2567-7111 ext: 6675

More from Test & Measurement