High Capacity Analog 2-wire Bulk Call Generator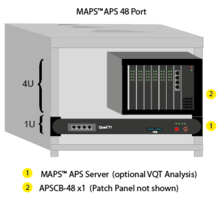 Overview
The MAPS™ APS/ALS is a high capacity Analog 2-wire Bulk Call Generator used to test a Central Office (CO), PBXs, ATAs, Gateways or other telecommunications equipment, which provide local loop interfaces. MAPS™ APS system supports up to 192 channels independent FXO ports or FXS ports per 1U MAPS™ APS/ALS system. This compact system comprises of MAPS™ Server, Analog Interfaces, Patch Panels and other optional modules (Fax Emulation and VQT Analysis) in a rack mount system.
More can be achieved by simply scaling the system with a 4U MAPS™ APS/ALS Server sporting 2 Octal T1 E1 Cards which can then support up to 384 analog ports.
MAPS™ platform offers automated, scripted, multi-user, multi-protocol, and high capacity Bulk Call Generation. MAPS™ is the platform for all signaling protocols and traffic generation - whether voice, tones, digits, fax, data, or video, depending on the network support. MAPS™ covers legacy PSTN, TDM, SONET SDH, next generation VoIP, and Wireless protocols, interfaces, and equipment. MAPS™ can support any of the following protocols in TDM networks for establishing the signaling links - CAS, FXO FXS, ISDN, SS7, PPP, GSM, INAP, CAP, and MAP.
Available Platforms
GL's MAPS™ APS/ALS systems are available in 24-Port, 48-Port, 96-Port, and 192-Port FXO and FXS configurations. Higher capacities can be achieved by simply scaling the system configurations.
GL also provides 24-Port WB FXO Test Solution using 2U HD VQuad™ System, as shown below, which offers support for both narrowband (NB) and wideband (WB) high-definition (HD) audio.
Functional Capabilities
Simulation capabilities

Bulk analog call simulation - both manual and automation supported
Call monitoring and call recording
Multiple users and tests per system
Scalable to support up to 1000s of calls
Remotely accessible via CLI

FXO capabilities

Support for up to 384 independent FXO ports
Full FXO Functionality via flexible scripts
Narrowband supported (wideband support available with 24-Port VQuad™ FXO Test Solution)
Supported call scenarios

Caller ID
Two-way Calling
Three-way Conference Calling
Three-way Calling with Calling Party Number ID
VMWI – Voice Mail with MWI (message waiting indicator) & SDT (stutter dial tone)
Call Waiting – Detect tone, Call ID, Flash to accept call
Call Forwarding

FXS capabilities

Support for up to 384 independent FXS ports
Central office simulation with two-way calling
User-programmable call progress tone generation for different countries/regions:

Dial tone
Ringback tone
Busy tone
Reorder tone Howler tone (extended off-hook signal)
Ring generation with programmable ring cadence

Traffic: Voice, DTMF/MF Digits, Single/Dual Tones, Fax, Voice Quality, and One-Way Delay.
Report Generation

Multi-User, Multi-Test reporting
Executed, Successful and Failed test cases reports
Call Failure, Completion, and Call Drop (sustain calls) events
Voice Quality Test MOS Scores
Delay Measurements (OWD, PDD)
Pass/Fail Status
Summarization with Failure Details sufficient to determine root cause
PDF and CSV file formats
Central DB of events/results/error

Fully Automated with CLI and external control

Client-server application (TCP/IP )
Script-based call simulation, call flow control and feature testing
Comprehensive API
API for Java, Python, TCL and .NET
Connect multiple clients simultaneously
Reserve/release analog lines through API
Independent execution available for all lines

Functionalities

Any Country signalling
Basic Telephony Functions: On-hook, Off-hook, Flash hook, Ringing, Ring back, Dial tones, Digits, and much more
Path Verification after call establishment
Call Fail: No Ring Back, Busy, Fast Busy, SIT
Digit Related Functions: Send digits, Detect digits
File Transfer Functions: Send file, Receive file
Tone Related Functions: Detect busy tone, Detect call waiting tone, Detect dial tone, Detect recorder tone, Detect ring back tone, Detect special dial tone, Detect test tone, Detect tone, Send test tone, Send tone
Fax Related Functions: Send Fax, Receive Fax
FSK Related Functions: Detect Caller ID, Detect VMWI
VQT (Optional): MOS, E-Model, PESQ, POLQA Scores
For comprehensive information on the application, user can refer to Analog 2-wire Bulk Call Generator web page.
Please review the above and give us a call if you are interested in the above Product/software or for any other applications listed in our website. We would be happy to discuss your testing needs and we look forward to hearing from you.
Warm Regards,
Shelley Sharma
Phone: 301-670-4784 x114
Email: gl-info@gl.com