High-Brightness, White SMT LEDs suit backlighting applications.
Press Release Summary: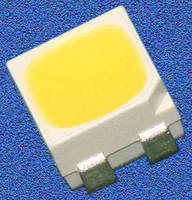 Supplied in 3.2 x 2.9 x 1.9 mm PLCC-4 SMT package, Toshiba TLWxK1109 series have 120° viewing angle and offer brightness optimized via combination of blue InGaN LED and yellow-emitting phosphor. Daylight white (6500K) and neutral white (5000K) models deliver luminous intensity of 3,200 mcd are rated at 76 lm/W. Also available, warm white (3000K) LED has luminous intensity of 2,500 mcd and is rated at 60 lm/W with typical luminous flux of 8.6 lm.
---
Original Press Release:

Toshiba High-Brightness, High Reliability White Surface Mount LEDs Provide Excellent Color Uniformity for Backlighting Applications



Latham, New York: Marktech has expanded its lineup of Toshiba White surface mount LEDs aimed at general and backlighting applications with the release of the Toshiba TLWxK1109 series. The new 1109 series LEDs are offered in three Lighting Industry standard color temperatures of 3000K, 5000K and 6500K. As with all Toshiba products, the highest level of manufacturing processes are used to insure a very robust LED for use in all lighting applications.

The daylight white TLWK1109 LED delivers a Luminous Intensity of 3200mcd and is well-suited for use in linear lighting and LCD backlighting applications. At 76 lumens per watt (lm/W), it features a luminous flux (typ) of 11 lumens (lm), and color temperature of 6500K. In addition this LED series includes both neutral and warm white devices that are perfect for use in instrumentation and backlighting applications. The TLWNK1109 neutral white LED has a Luminous Intensity of 3200mcd and is 76lm/W with a Luminous Flux of 11lm (typ) and color temperature of 5000K. The TLWLK1109 warm white LED has a Luminous Intensity of 2500mcd and is 60lm/W with a Luminous Flux of 8.6lm (typ) and color temperature of 3000K.

All three LEDs are housed in a PLCC-4 surface-mount package that measures 3.2mm x 2.9mm x 1.9mm. Their high brightness white light output is a result of a combination of a blue InGaN (indium gallium nitride) LED and a yellow-emitting phosphor. The devices offer efficient operation with maximum power dissipation of 200mW and typical forward voltage (VF) of 3.6V. Operating temperature ranges from -40ºC to 100ºC.

Features

PLCC-4 Surface Mount Package

120º Viewing Angle

Incorporates InGaN/Phosphor Technology

High Operating Temperature Range: -40º ~ +100º C

Typical Luminosity of 2500-3200mcd

Pricing and Availability
Pricing for the TLWxK1109 series starts at $0.28 in 10K lots with free samples currently available. For more information on these or any of our other LED or LED Driver products contact Marktech Optoelectronics at (800) 984-5337, email: info@marktechopto.com. Website: www.marktechopto.com.

Marktech Optoelectronics: Marktech has been an industry leader in the application and design of LEDs for over 25 years. A preferred Toshiba Value-added Reseller (VAR), Marktech provides North American technical sales and marketing for Toshiba LED devices. In addition to their Toshiba line Marktech also offers a wide range of standard Discrete, Surface Mount, and Dot Matrix Displays along with a complete line of Photo Sensors.

Contact: Carrah Daley
Marktech Optoelectronics
3 Northway Lane North
Latham, New York 12110
Web Site:
Email:
www.marktechopto.com
c.daley@marktechopto.com
Phone: 800.984.5337
Fax: 518.785.4725

More from Waste Management & Waste Handling Equipment