High-Brightness LED Driver is optimized for dimming performance.
Press Release Summary: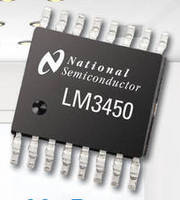 Supplied in 16-pin TSSOP, PowerWise® LM3450 integrates active PFC and phase dimming decoding to provide uniform, flicker-free illumination across programmable dimming range. Dynamic hold circuitry and programmable, intelligent dimming decoder ensure smooth, consistent illumination across full dimming range. Used to implement phase dimmable off-line LED driver for 10-100 W loads, driver also incorporates dynamic filter and variable sampling rate as well as analog adjust input.
---
Original Press Release:

National Semiconductor Introduces LED Driver with Industry's Best Dimming Performance



LED Driver Integrates Power Factor Correction and Phase Dimming Decoding to Provide Flicker-free, Uniform Dimming

SANTA CLARA, Calif. - National Semiconductor Corp. (NYSE:NSM) today introduced a new LED driver with the industry's best phase-based dimming performance for high-brightness light-emitting diode (LED) applications. The LM3450 LED driver integrates active power factor correction (PFC) and phase dimming decoding to provide uniform, flicker-free illumination across a wide, programmable dimming range. A member of National's PowerWise® energy-efficient product family, the LM3450 is well-suited for use in high-performance, phase dimmable, 10 Watt to 100 Watt LED fixtures.

Residential and commercial lighting applications that interface with phase-based dimmers require circuitry that can correctly decode a phase-chopped waveform to provide proper dimming of the LEDs. Dimmable LED drivers available today do not always meet the minimum current requirement for forward phase or TRIAC-based dimmers, causing the dimmer to shut off or "misfire" during operation. This causes inaccurate decoding of the phase angle resulting in flicker, particularly at very low dimming levels. To compensate, today's drivers reduce the LED dimming range or continuously burn power to keep the dimmer from misfiring.

National Semiconductor has taken a unique approach to solving this issue with its new LM3450 LED driver that integrates hold circuitry to dynamically adjust the current through the phase dimmer. The dynamic hold circuitry, coupled with a programmable, intelligent dimming decoder, ensures smooth, consistent illumination across the full dimming range. This combination of features provides the most efficient and uniform dimming performance in the industry. The LM3450 LED driver also provides active power factor correction, ensuring a high power factor that complies with residential and commercial Energy Star® standards.

Technical Features of National's LM3450 LED Driver
The LM3450 LED driver regulates an accurate output while maintaining excellent power factor at the input. The integrated phase dimming decoder interprets the phase angle and remaps it to a 500 Hz PWM output to dim the LEDs. This combination of features is ideal for implementing a phase dimmable off-line LED driver for 10 Watt to 100 Watt loads.

The phase dimming decoder uses programmable mapping from input to output to increase design flexibility. It also features a dynamic filter and variable sampling rate for a fast, smooth response to dimmer movement. An integrated dynamic hold circuit ensures that the phase dimmer angle is decoded properly while minimizing the extra power losses associated with holding current.

Other benefits include an analog adjust input to allow for differentiation such as thermal foldback, interface to sensors or dimmer range adjustability.
The LM3450 can be implemented in either single stage or two stage configurations. The single stage configuration yields the smallest footprint and allows for the highest efficiency when converting from the AC mains voltage. The two stage configuration provides improved dimming performance and better noise immunity.

For more information or to order samples and an evaluation board, visit http://national.com/pf/LM/LM3450.html.

Pricing and Availability
Offered in a 16-pin TSSOP package, National's LM3450 is available now and priced at $1.85 in 1,000-unit quantities. More information about National's lighting products is available at www.national.com/analog/led.

About National Semiconductor
National Semiconductor is a leader in power management technology. Known for its easy-to-use analog integrated circuits and world-class supply chain, National's high-performance analog products enable its customers' systems to be more energy efficient. Headquartered in Santa Clara, Calif., National reported sales of $1.42 billion for fiscal 2010. Additional information is available at www.national.com.

National Semiconductor and PowerWise are registered trademarks of National Semiconductor Corporation. All other trademarks are the property of their respective owners.

Gayle Bullock
National Semiconductor Public Relations
3689 Kifer Road, M/S G1-124
Santa Clara, CA 95051
Tel: (408) 721-2033
Cell: (408) 464-2516
Fax: (408) 721-3238
Email: gayle.bullock@nsc.com

More from Mechanical Power Transmission