HID Camouflage Spotlight produces 15 million candlepower output.
Press Release Summary: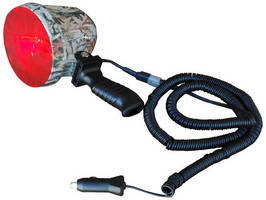 Delivering 3,200 lm, HUL-18-HID-RED-C employs 35 W HID bulb and aluminum reflector to produce beam that reaches up to 2,500 ft. Construction includes nylon housing, polycarbonate handle, borosilicate hardened glass lens, and 16 ft coil cord with cigarette plug. Rated IP67 waterproof, spotlight features camouflage finish and comes in 12 and 24 Vdc configurations. Red polymer lenses are included for applications that may require them.
---
Original Press Release:

Magnalight Adds 15 Million HID Camouflage Spotlight to Powerful Spotlight Lineup



Larson Electronics' Magnalight.com has added a 15 million candlepower camouflage HID spotlight to its line of high power spotlights for specialized applications. The HUL-18-HID-RED-C HID spotlight is IP67 rated waterproof and produces 3,200 lumens of light. The 35 watt HID bulb in this spotlight produces a beam reaching up to 2500 feet in length, making it a powerful spotlight solution capable of meeting the most demanding requirements. Included red lenses add versatility and allow users to quickly and easily convert this spotlight for hunting applications requiring a red spotlight beam.

The hul-18-hid-red-c Camouflage HID Spotlight from Larson Electronics' Magnalight.com produces a powerful light beam reaching up to 2,500 feet in length through the use of a 35 watt high intensity discharge bulb and high efficiency aluminum reflector assembly. Producing 15 million candlepower, this HID spotlight is constructed of heavy duty materials including nylon housing, polycarbonate handle, and borosilicate hardened glass lens. An included 16 foot coil cord with cigarette plug allows easy connection to most vehicles and ATVs equipped with cigarette lighter sockets, and the highly efficient HID lamp provides high output while reducing the drain on a vehicle's electrical system. Adding versatility to this already convenient spotlight are included red lens covers that allow users to convert this light into an ideal hunting spotlight. The adhesive backed red lens covers are constructed of high strength polymer and are simply pressed into place over the original glass lens. The result is a powerful HID hunting spotlight with the extreme long range and high intensity needed to take the difficult shots that normal incandescent hunting lights cannot provide. This spotlight features an ergonomic handle that fits the contours of your hand for secure handling, even in wet conditions, and the entire unit is an IP67 rated waterproof light to provide reliable performance regardless of the weather conditions. The camouflage finish on this light allows it to blend into natural surroundings and will compliment most comprehensive hunting gear without sticking out like a sore thumb. Magnalight.com offers these high quality spotlights in 12 and 24 volt DC configurations, making them suitable for use on a wide range of vehicles, boats and off-road vehicles equipped with 12 or 24 volt electrical systems. This spotlight is a highly versatile and powerful spotlight solution that can serve in a wide variety of roles thanks to the extreme power of its HID lamp assembly, simple power connection, and included red hunting lenses that make this light the perfect gift for the sportsman or man in your life. BLACK FRIDAY SPECIALS at Larson Electronics' Magnalight include: free shipping for orders over $50.00 when purchased online and specials on select hunting lights.

"This spotlight with a camouflage design finish has a powerful 15 million candlepower light beam," said Rob Bresnahan with Larson Electronics' Magnalight. "This light is built to withstand the elements and at 18 ounces it is easy to maneuver in the field."

Larson Electronics' Magnalight.com carries an extensive line of hunting spotlights, HID spotlights, rechargeable spotlights and military/law enforcement spotlights. You can view Larson Electronics' Magnalight line of portable lighting at Magnalight.com. Magnalight can be reached directly by calling 1-800-369-6671 or 1-214-616-6180 for international inquiries.

More from Cleaning Products & Equipment