Hi-Res Optical Encoders operate at up to 5 million ppr.
Press Release Summary: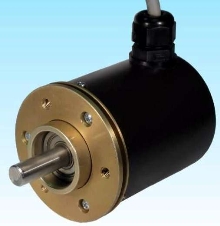 Models CP850/950-HHC incremental rotary optical encoders, offered in shafted or blind-hollow shaft versions, have absolute accuracy of ±12 arcsec typ. Products are available in 35 resolutions from 25,000-1,250,000 full quadrature A and B cycles/rev if used with edge detection from 100,000-5,000,000 ppr, respectively. Model CP-850 comes with 3/8 in. shaft, and CP-950 is available for mounting on shafts with diameters to ½ in.
---
Original Press Release:

High Resolution Optical Encoder Size 25 with up to 5 Million Pulses per Revolution


June 2005, CHATSWORTH, CA - Models CP850/950-HHC high-resolution incremental optical encoders are available in shafted or blind-hollow shaft versions with resolutions from 25,000 to 1,250,000 full quadrature cycles/rev (5 Million pulses). Designed for industrial applications that require high resolution in high precision positioning and measuring systems.

Computer Optical Products Inc (COPI), an Allied Motion company, offers a new family of high-resolution incremental optical encoders, the CP-850/950 HHC series. These cost-effective rotary optical encoders are available in 35 different resolutions, ranging from 25,000 up to 1,250,000 full quadrature A and B cycles per revolution, if used with edge detection 100,000 to 5,000,000 pulses per revolution respectively. Maximum frequency per channel is 2.5 MHz for a maximum of 120 RPM for the 1,250,000 c/r version. Absolute accuracy is ±12 arcseconds typical.

These encoders were specifically designed for high resolution/high precision positioning and measuring systems such as scanners, spectrum analyzers, tuneable lasers, digitizers, micro lithography equipment, photogrammetry, antenna pedestal positioning, high-resolution machine tools, telescope systems and rotary tables.

The model CP-850 comes standard with a 3/8" (9.53mm) shaft, whereas the hollow shaft model CP-950 is available for mounting on shafts with a diameter of up to 1/2" (12.7mm). The CP-850 is supplied with either a servo-mount or a square mounting flange, while CP-950 units are equipped with a flexible (spring) mount. Both models are industry-standard size 25 (2.5" body diameter) and only 2.5" (63.5mm) in length. The standard 24" (610mm) cable can be ordered as either side or end (axial) exit. A connector option is available. IP66-rated sealing is also available for either model.

The output format of both units is standard linedriver, complementary A/B quadrature and index signals, RS-422 compatible. Voltage supply is +5 VDC @ 250 mA max. Standard operating temperature ranges is from -20 °C to 85°C; different ratings are available as special order.

For further information please visit opticalencoder.com/summaries/cp-850-hhc_summary.html or contact Mark Heidenwag, Applied Marketing Specialist, Computer Optical Products, Inc., Phone (800) 340-0404, Fax (818) 882-0492, Email: heidenwag@alliedmotion.com, Internet: www.opticalencoder.com.

About Computer Optical Products, Inc.
Founded in 1983, Computer Optical Products, Inc. (COPI) is an innovator in the design of optical encoders, custom motor-encoder assemblies, and related accessories for a large range of applications. COPI is an Allied Motion Technologies company. (www.alliedmotion.com)

More from Fluid & Gas Flow Equipment