HI 6020 Summing Boxes support up to 4 load cells.
Press Release Summary: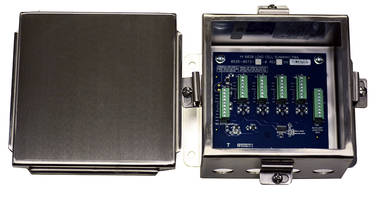 Available in HI 6020IT and HI 6020JB models, HI 6020 Summing Boxes come in NEMA 4X in stainless steel, painted steel or fiberglass enclosure. Embedded with C2® electronic calibration and Integrated Technician® (IT) technologies, Using TB6 auxiliary connection, two HI 6020 boxes can be connected for supporting between 5 and 8 load cells. Suitable for batching/blending and level-by-weight applications, products are RoHS2 and REACH compliant.
---
Original Press Release:
New Stainless Steel Hardy HI 6020IT and HI 6020JB Summing Box Models with Hazardous Area Certifications
Hardy Process Solutions announces new stainless steel models in its HI 6020 Summing Box line with hazardous area certifications. Summing boxes are a critical weighing system component that distributes excitation voltage from up to four load cells, and transfers each load cell's performance characteristics and weight signals to a Hardy weighing instrument.
The HI 6020 Junction Box is UL, CE, RoHS2 and REACH compliant and now is rated for installation in hazardous locations:
HI6020IT-SSX-Y and HI6020JB-SSX-Y models include : USL/CNL Class I, II, III, Div 1 Groups ABCDEFG intrinsically safe per Hardy drawings 0594-0007 and 0594-0008 (Drawings are available for download on the Hardy website)
HI6020JB-SSX-Y-EX and HI6020IT-SSX-Y-EX models: ATEX & IECEx Ex ia IIC T4 intrinsically safe per Hardy drawings 0594-0011 and 0594-0012 ATEX Certificate No. DEMKO 17 ATEX 1819; IECEx Certificate No. IECEx UL 17.0009
 All HI6020IT and HI6020JB also meet: USL/CNL Class I, II, III, Div 2, Groups ABCDFG (except -EX versions). Fiberglass, painted steel and summing card options only carry the Class I, II, III, Div. 2 hazardous area certifications.
Hardy HI 6020 models use two core Hardy technologies: C2® electronic calibration and Integrated Technician® (IT). (C2® allows electronic calibration without test weights. IT offers complete weighing system monitoring and troubleshooting.) Weighing applications include: batching/blending, filling/dispensing, level-by-weight, inventory management and product inspection.
The HI 6020 Summing Box is available with a variety of options, including: IT, trim pots (for non-Hardy load cells), and a NEMA 4X enclosure in stainless steel, painted steel, or fiberglass. A single HI 6020 Summing Box supports up to 4 load cells. To connect two HI 6020 Summing Boxes together to support between 5 and 8 load cells, Hardy supplies a TB6 Auxiliary connection between boxes. To support this feature, Stainless Steel summing boxes are available predrilled with six holes instead of the standard five holes.
ABOUT HARDY PROCESS SOLUTIONS
Headquartered in San Diego, California, Hardy Process Solutions has been providing customers with process control solutions since 1918 and is best known for its innovative technology. The company prides itself on its ability to continuously provide superior product quality and excellent customer support.
Hardy, an ISO 9001-certified manufacturer, currently services the food, chemical, petrochemical, pharmaceutical, feed & grain, mining & metal, pulp & paper, oil and gas, power, and general automation industries. We have developed the most interface connection options in the process industry, including DeviceNet, ControlNet, EtherNet, EtherNet/IP, Profibus, Modbus TCP, Analog, and Serial.
Hardy Process Solutions is also a proud Encompass® Global Partner with Rockwell Automation®. We are an industrial scale company, offering accurate weighing scales including floor scales, load cells, platform scales, and more. Our plug-in weigh scale modules fit directly into MicroLogix® 1500, CompactLogix®, ControlLogix®, SLC 500, and Micro800® Allen-Bradley PLCs.
CONTACTS:
Janice Kall
9440 Carroll Park Dr.
San Diego, CA 92121
Phone: 858-255-6782
Fax: 858.278.6700
janice.kall@hardysolutions.com
More from Architectural & Civil Engineering Products