Hexagon's New Metrology Enhanced Automation System Demonstrates How Smarter Manufacturing Systems Can Be Easily Developed and Deployed At Automate 2019
Press Release Summary: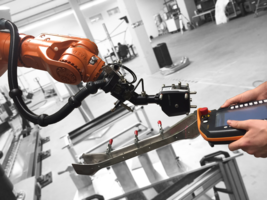 Streamlines main control interface of the cell maintains workflow sequence and provides robotic/measurement control
Measures surfaces of a part and outputs the true position and vector data of each simulated feature location to a FANUC robot
---
Original Press Release:
Hexagon Manufacturing Intelligence Showcases New Metrology-Enhanced Automation Systems at Automate 2019
Hexagon Speaker and Thought Leader Explains the Potential of Metrology-Enhanced Robotics
North Kingstown, RI – April 8, 2019 – Hexagon Manufacturing Intelligence announced today it will feature new Metrology Enhanced Automation (MEA) systems at Automate 2019, April 8 - 11, McCormick Place, Chicago, IL. In Booth #8363, Hexagon's Metrology Enhanced Automation (MEA) system will be featured in a Manufacturing Cell, demonstrating how smarter manufacturing systems can be easily developed and deployed. At the heart of the system is the Leica Absolute Tracker AT960, which streamlines the main control interface of the cell, maintains the workflow sequence and provides robotic/measurement control. The MEA cell measures surfaces of a part and outputs the true position and vector data of each simulated feature location to a FANUC robot. Also featured is a Leica Absolute Tracker automation station providing virtual measurement simulation and robot offline programming, as well as analysis data monitoring and reporting.
Hexagon thought leader Joseph VanPelt will join the speaker line up at Automate 2019. VanPelt, a Hexagon Applications Process Specialist, will present a technical paper on Wednesday, April 10, 8am – 9am in the AI, Digitalization and Smart Manufacturing Track. His presentation Real time Robotic Path Correction for Manufacturing and Assembly will explore the answers to key automation questions and cover application segments where the manufacturing industry is moving away from large-scale specialized machining and assembly tools toward general-purpose robotics instead. Attendees will learn about what is currently possible in the emerging realm of metrology-augmented robotics, and where future development in this field may lead.
Hexagon will also have a presence in the ABB Booth #7546, where a TIGO SF coordinate measuring machine is featured in the ABB Robotics Ellison project being shown during Automate. The CMM will measure parts and feedback dimensional data to a lathe for offsets. Developed specifically for the shop-floor, the TIGO SF is a versatile CMM used for high-accuracy measurement of a wide range of small and medium size parts from all industrial sectors. Also ideal for a shop-floor manufacturing cell, the TIGO SF has air-free movement to ensure performance in harsh shop-floor environments. The machine structure is fully protected by covers and bellows to prevent contamination of the CMM's moving parts.
About Hexagon's Manufacturing Intelligence Division
Hexagon's Manufacturing Intelligence division helps industrial manufacturers develop the disruptive technologies of today and the life-changing products of tomorrow. As a leading metrology and manufacturing solution specialist, our expertise in sensing, thinking and acting – the collection, analysis and active use of measurement data – gives our customers the confidence to increase production speed and accelerate productivity while enhancing product quality.
Through a network of local service centers, production facilities and commercial operations across five continents, we are shaping smart change in manufacturing to build a world where quality drives productivity. For more information, visit HexagonMI.com.
Hexagon is a global leader in digital solutions that create Autonomous Connected Ecosystems (ACE). Hexagon (Nasdaq Stockholm: HEXA B) has approximately 20,000 employees in 50 countries and net sales of approximately 3.5bn EUR. Learn more at hexagon.com and follow us @HexagonAB.
More from Packaging Products & Equipment