Hewitt Molding adds F5 MAKINO Vertical Machining Center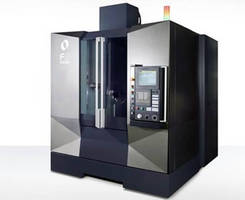 Oakford, IN – Hewitt Molding has just installed an F5 MAKINO Vertical Machining Center. The New F5 Vertical Machining Center is designed to provide stiffness and rigidity for chatter-free cutting, agility for high speed/hard milling and accuracies for tight-tolerance blends and matches typical of complex, 3-D contoured geometry associated with die/mold and medical production.



The F5 machine is a highly productive 20,000-rpm, HSK-63A spindle, which incorporates Makino's patented core-cooling, under-race and jacket spindle temperature control system. The two-range spindle supplies unique, wide-range capability with the stiffness and rigidity at lower ranges for roughing operations, and vibration/chatter-free production of small details and fine features when utilizing small tools at high rpm. The F5 provides remarkable Linear Positional Accuracy of +/- 0.000060" with a Repeatability of +/- 0.000040".



The F5 utilizes the Makino Professional 5 control, which affords the perfect blend of a Windows CE operating system's graphical user interface (GUI), touch-screen selection offering instant access to information, efficient PC-like capability for data management and editing, and the networking and storage capability of a data center.



Also featured in the F-series is Makino's proprietary next generation Super Geometric Intelligence (SGI, 4) software – developed specifically for high feedrate, tight tolerance machining of complex, 3D contoured shapes involving continuous tiny blocks of NC data. It insures production rates faster than standard CNC systems while maintaining high accuracy. SGI.4 helps provide the lowest cycle times and costs.



F5 MAKINO

Tooling Specifications


| | |
| --- | --- |
| Table Size | 39.4" x 19.7" |
| X | 35.4" |
| Y | 19.7" |
| Z | 17.7" |
| Spindle RPM | 20000 |
| Rapid Traverse | 787 ipm |
| Cutting Feedrate | 787 ipm |
| Maximum Workpiece | 39.4" x 19.7" x 17.7" |
| Maximum Payload | 1,432 lbs |
| ATC Capacity | 30 |
| Maximum Tool Length | 11.8" |
| Maximum Tool Diameter | 4.72" |
| Maximum Tool Weight | 17.6 lbs |
| Linear Positional Accuracy | +/- 0.000060" |
| Repeatability | +/- 0.000040" |





George E. Hewitt, President of Hewitt Molding stated, "We are expanding our facility with New Equipment continuously".  We continue to see increased demand and growth of advanced High Speed Hard Milling Technologies and new equipment requirements are constantly changing. We must stay in front of each Customer by providing the latest in manufacturing tooling, methods and materials."

Mr. Hewitt states, "The reality is that manufacturing isn't dying, it's changing. We are committed and will continue to provide World-Class manufacturing."



About Hewitt Molding Company;

 

HEWITT MOLDING COMPANY is a custom design and manufacturer of precision thermoplastic injection molded tools and uses the latest in plastic injection molding technology, providing long and short run plastic injection molding services. The Company designs, builds, and produces World-Class plastic products for a wide range of applications and markets.

 

Source: Hewitt Molding Company.

More from Fluid & Gas Flow Equipment