HessAmerica's PORTAL EXIT Nominated for Inclusion in 2018 IES Progress Report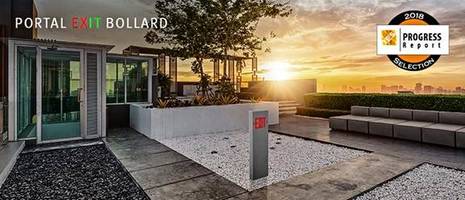 Gaffney, South Carolina, 2018 — HessAmerica is pleased to announce PORTAL EXIT has been selected for inclusion in the Illuminating Engineering Society (IES) 2018 Annual Progress Report. The IES Progress Committee selected PORTAL EXIT based on criteria of uniqueness, innovation, and significance to the advancement of the state of the art and science in the lighting industry.
Terry O'Toole, General Manager for HessAmerica, remarked, "We are pleased to be recognized for bringing the first commercially available outdoor rated EXIT bollard to market in North America. The Portal EXIT was developed to provide a solution for outdoor applications where none currently exists".
The PORTAL EXIT bollard is a ground mounted exit signage solution for outdoor applications where wall or ceiling mounting methods are not possible or desired. The architectural wet-location LED exit bollard provides visual guidance towards exits for exterior settings such as courtyards, patios, roof-top gardens and swimming pool decks, or other spaces requiring wayfinding. The slender rectangular bollard is extruded aluminum and includes refined styling details such as a beveled top, minimized visible hardware, and flangeless mounting. 
PORTAL EXIT is available with green or red lettering to meet local or state codes, is CSA Certified for Wet Locations, and complies with UL924 standards for exit signs. 
About HessAmerica:
HessAmerica's timeless, high-quality luminaires have received numerous awards for innovative design, lighting performance, and technical advancements. These include early efforts in outdoor indirect lighting, the introduction of the world's first pole mount LED luminaire, development of modular light column systems, and pioneering light engine concepts that allow reproducible lighting performance as LED technology advances.
About the IES Progress Report:
The Progress Committee's mission is to keep in touch with developments in the art and science of lighting throughout the world and prepare a yearly review of achievements for the Illuminating Engineering Society. Acceptance in the Progress Report is based on an impartial judging process used by the committee to evaluate each submission on its uniqueness, innovation, and significance to the lighting industry.
Contact Information: Literature and specifications for PORTAL EXIT, or other original Hess outdoor architectural lighting products, are available by contacting authorized HessAmerica professional, independent lighting-sales representatives at www.hessamerica.com/About_us/Representative/. Website: www.hessamerica.com.
EDITOR, FOR MORE INFORMATION, PLEASE CONTACT:
Bill or Nancy Schoenfisch
SCHOENFISCH INCORPORATED
336 County Highway 24
Richfield Springs, New York 13439
(315) 858-8393/Phone
(315) 858-9635/Fax
primages@aol.com/E-mail
More from Machinery & Machining Tools