Hermetic Sealed Connectors target photovoltaic installations.
Press Release Summary: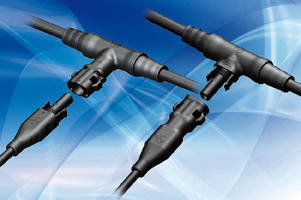 Supplied with PV cables, Y-Sol4 T-junction Connectors feature hermetic sealed technology, which provides leak-tight insert molding around cables, yielding IP68-compliant protection. Units permit individual series-connected module strings to be combined on parallel-connected bus bar. To prevent unintentional loosening, connectors ratchet in when closed and can only be disconnected using special plastic tool. Available conductor cross sections are 4 mm² and 6 mm².
---
Original Press Release:

Hermetic Sealed Connectors - Product Extension Y-Sol4 T-Junction



Munich, - The Y-Sol4 connector for photovoltaic applications from Yamaichi Electronics is now also available in a T-junction version. The "Hermetic Sealed" technology provides leak-tight insert-moulding around the cables, yielding IP68-compliant protection.

Connectors are an important connecting part in photovoltaic installations. During the installation phase, their design and quality is the deciding factor as to whether the PV installation can be installed quickly, efficiently, and reliably. The right choice of connectors has a direct influence on total cost and reliability of the system. During subsequent operation of the installation, the connectors must reliably meet requirements over a period of 20 years. Outdoor use doesn't just require the safe transmission of currents of up to 30A. The connector must also be resistant to water spray, UV radiation, and temperature variations. Especially for the increasingly frequent roof and building installations, safety requirements are also more and more important. Standing water under a module or a heat build-up between the module and the roof may not lead to malfunctions or safety risks.

These are the requirements for which Yamaichi Electronics developed the "Hermetic Sealed" technology. The unique feature is in the IP68 water-tight insert-moulding of the cable and contact in a single work process. In contrast with conventional PV plug connectors, no individual parts or screw connections are required.

Yamaichi has designed the Y-Sol4 T-junction as an addition to the Y-Sol® Series successfully introduced a few years ago. The T-junction offers PV installers decisive advantages during installation and for subsequent reliable installation operation. The installer needs T-junction elements for the fast, reliable connection of module strings. They permit individual series-connected module strings to be combined on a parallel-connected bus bar.

The new Y-Sol4 T-junction from Yamaichi was designed specifically for this application. The connector ratchets in when closed. It can then only be disconnected using a special plastic tool included in the distribution. This prevents unintentional loosening of the connectors, increasing installation reliability.

Yamaichi has paid particular attention during development to fast, cost-effective cabling. Y-Sol4 T cable assemblies are custom fabricated to the specifications of the installer. During construction of solar facilities, this makes installation fast and particularly reliable. Later malfunctions in the field (or on roofs) can thus be avoided. The finished cable assemblies are generally delivered directly to the construction site. The installer uses them to connect the module strings without manual configuration ("ready to plug"). The Hermetic Sealed design simultaneously ensures both maximum reliability and a long service life.

Y-Sol4 T comes standard with PV cables cross-linked using electron beams. Available conductor cross sections are 4mm² and 6mm². Y-Sol4 T cable assemblies are tested for VDE 126 compliance by TÜV Rheinland.

The data sheet for the Y-Sol4 T-junction can be found here:

http://www.yamaichi.de/pdf/ysol4-con-t.pdf

Overview of the complete Y-Sol® product line:

http://www.yamaichi.eu/main/index_dhtml.php?id=1032&sprache=engl&gruppe=Europe

For questions about this product, please write to info@yamaichi.de.

About Yamaichi Electronics

Yamaichi is a market leader for test & burn-in sockets, connectors and connection systems - areas in which reliability and function safety are essential for the success of the whole project. Yamaichi has established itself very quickly on the world market as a manufacturer of high-quality and reliable components for ambitious applications in the following sectors: photovoltaic, automotive, medical, semiconductor, telecommunications infrastructure, industrial automation, mobile computer technology, mobile telephones, GPS systems, printers, digital cameras, camcorders, as well as electronic devices in the retail trade, industry and electronics.

Yamaichi Electronics Deutschland GmbH

Karl-Schmid-Str. 9, 81829 München, Germany

Tel. +49 (0)89 - 4 51 09-0

Fax: +49 (0)89 - 4 51 09-110

info@yamaichi.de

www.yamaichi.eu

More from Services