Help Increase Workplace Security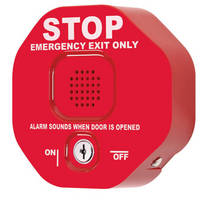 STI's Exit Stopper continues to help solve the problems of unauthorized exits and entries of fire or emergency doors. The multifunction door alarm is excellent in helping increase workplace security.



The highly effective Exit Stopper alerts if a protected door is opened by emitting an ear piercing alarm for 30 seconds, three minutes or continuously (as preset by the user). Another option is annunciator mode (loud 95 or 105 dB). A key operated override will silence the alarm and allow authorized exits.



The different versions available are:

STI-6400 –  the original multifunction door alarm

STI-6400WIR – STI-6400 with wireless transmission

STI-6400WIR4–STI-6400 with wireless transmission and receiver

STI-6402 –  designed for double door installation

STI-6403 –  has a remote horn

STI-6404 –  for a double door with a remote horn

STI-6405 –  has an "always active" feature

STI-6406 –  allows dual access control



Sound intensity choices include 95 or 105 dB. The polycarbonate housing is backed by a three year guarantee against breakage in normal use and one year on electro mechanical and electronic components. For indoor use only.



For more information on STI Exit Stoppers (STI-6400 – STI-6406), or the entire Stopper® Line, call 800-888-4784, fax 248-673-1246, email info@sti-usa.com or visit www.sti-usa.com.  STI's address is: 2306 Airport Road, Waterford, MI 48327-1209.



More from Non-Industrial Products