HELP ALERT® Panic Button System includes mass notification capability.
Press Release Summary: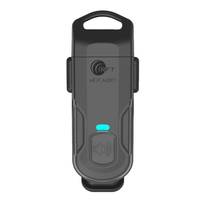 HELP ALERT® Wireless Panic Button System enhances security of workers at facilities, hospitals and schools. Unit allows employees to carry the device that trigger both personal and mass notification alert. Device sends the security officers with the alert location, alert type and camera feeds. HELP ALERT® tracks all users on facility floor plan in RTLS mode.
---
Original Press Release:
When Seconds Count: New Mass Notification Panic Button for Hospitals
RFT introduces new version of HELP ALERT with a wireless key-fob style panic button and mass notification capability.
Recent high profile security incidents demonstrate the gravity and impact that workplace violence has on our nation. Recent attacks in schools and hotels have rightfully captured the public's attention, and the unfortunate truth is that every industry is currently at risk for large-scale workplace violence.
New rules from the Centers for Medicare & Medicaid Services (CMS) require that hospitals and healthcare facilities perform all-hazards risk assessments, and plan adequately for both natural and man-made disasters. The International Association for Healthcare Security & Safety (IAHSS) recommends that senior leadership accept that the potential for violence exists and commit adequate resources to curb it.
One company, RF Technologies (RFT) in Brookfield, Wisconsin, is working to increase security of workers at healthcare facilities, hotels and schools. The company has introduced an updated version of its HELP ALERT® wireless panic button system, which includes a mass notification feature.
"HELP ALERT puts the 'see something, say something' concept into real-time action," says Tim Fischer, vice president of sales at RFT. "When a large scale threat emerges, a HELP ALERT user can send a mass notification alert to security personnel who can then push it to the entire campus within seconds. In these situations, seconds really count," adds Fischer.
With the HELP ALERT system, employees carry Wi-Fi panic button devices that trigger both personal and mass notification alerts. Security officers receive the alert location, alert type, and any available camera feeds. When the situation requires it, the security officer can trigger a mass notification that will alert all HELP ALERT users, signaling them to follow pre-established mass notification protocols. The system then goes into on-demand RTLS mode and tracks all users on a facility floor plan.
RFT introduced the new version of HELP ALERT with a wireless key-fob style panic button and mass notification in January. For more information, contact RFT at 800-669-9946 or http://www.rft.com
RF Technologies (RFT) is a leading provider of safety and security solutions for the healthcare, hospitality, and education markets, leveraging radio frequency identification (RFID) and real-time locating system (RTLS) technologies. The RF Technologies brand family includes CODE ALERT® call and wander management systems, SAFE PLACE® patient security systems, SENSATEC® fall management products, HELP ALERT® panic button systems, and EXACTRACK® equipment location systems. With more than 10,000 installations, RFT was the first in the industry to offer remote monitoring, RF consulting, 24/7 technical support by internal staff specialists, and a nationwide service team.
Related