Helmsman and Operator Chairs combine comfort, control.
Press Release Summary: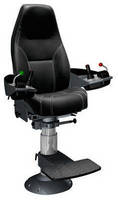 Ruggedized for harsh marine environment, NorSap 1700 and 1500 Series are mounted on 5.9 in. shock-dampening column and feature flange with 6 mounting holes for secure installation. Each fully adjustable model swivels 360°, offers lumbar support, and has heated seat. Ergonomic 1700 Series supports custom controls to meet unique specifications of any operator, while 1500 Series is available with various options to provide custom feel for diverse installation situations.
---
Original Press Release:

Imtra Introduces Norsap 1700 and 1500 Series Chairs



Leading Marine Products Importer's High-Quality Helmsman and Operator Chairs for the Commercial Market Provide Exceptional Comfort and Control

New Bedford, Mass. - Imtra, the leading manufacturer and importer of quality marine products, introduced today two premium helmsman and operator chairs, the NorSap 1700 and 1500 Series. Ultra rugged for the harsh marine environment, the 1700 and 1500 Series chairs are designed for commercial workspaces where comfort and control are critical to safe vessel operation. The ergonomic 1700 Series supports custom controls to meet the unique specifications of any operator. The 1500 Series is available with a variety of popular options to provide a made-to-order feel for diverse installation situations. The NorSap 1700 and 1500 Series top of the line helm seats are the ultimate solution for both advanced ship bridges and demanding work environments.

Engineered to maximize comfort and control, the NorSap 1700 and 1500 seats offer a variety of adjustments including height, seat back, and distance forward and backward. Stylishly designed, the charcoal powder-coated aluminum and sophisticated black leather seats provide a contemporary look that complements the interior of any commercial vessel. NorSap helmsman and operator chairs are ideally suited for workboats, supply ships, fishing boats, ferries, cruise ships and tugs, as well as military vessels. NorSap chairs are also the optimal choice for offshore rigs or other rugged environments where comfort and support are important.

"When maneuvering commercial vessels, operators require a seating solution that provides comfort and support ultimately relieving stress and fatigue," said Alex Larsen, commercial sales manager, Imtra. "For over 40 years, NorSap has provided that support by producing quintessential high performance commercial seats. We are pleased to add these renowned chairs to our product line."

The NorSap 1700 and 1500 incorporate rugged and stylish construction, ergonomically designed to maximize comfort and minimize strain in even the roughest conditions. Offering a custom solution, the lightweight NorSap 1700 is a full-function control chair with spacious armrests that provides over 23-inches of room for the addition of controlling equipment required by the operator. Both chairs are mounted on a 5.9-inch (150 mm) shock-dampening column. A sturdy flange with six mounting holes ensures secure installation. Each model swivels 360-degrees, offers adjustable seat backs and seats including a glider for forward and backward motion, optional deck rail mounting, electric height adjustment, lumbar support, heated seats and a seat cover. A microphone and loudspeaker option is also available for the 1700 Series. Seats and footrests fold up to maximize room when not in use. Seat height can be adjusted to a minimum of 32.7-inches and a maximum of 41.3-inches. All NorSap seats are protected by a 1-year limited parts and labor warranty.

Pricing and Availability:
NorSap 1700 and 1500 Series helmsman and operator chairs are available to United States and Canadian customers directly from Imtra. For more information on the 1700 and 1500 Series, NorSap's complete line of helmsman and operator chairs, pricing, Imtra or its entire marine product line, please contact 508-995-7000 or visit www.imtra.com.

About Imtra:
Imtra, based in New Bedford, Massachusetts, is an importer and manufacturer of high quality consumer marine products, advanced LED solutions and integrated marine systems, as well as a key supplier to the OEM and aftermarket. With over 50 years in the marine business, Imtra has sales and support teams in 11 regions throughout North America. The company's extensive product knowledge is available to its customers through a renowned full-service department and professional customer service group. Product categories include Lighting, Thrusters, Anchoring Systems, Wipers, Antennas, Gangways and other specialty products. www.imtra.com/pages/about_imtra.htm.