Helmet Accessories increase welder protection.
Press Release Summary: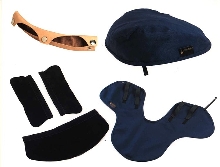 Sweatband in leather has three sturdy snaps to hold it in place on helmet's adjustable headband. Head Protector, made from flame and spark-resistant Endura®, attaches to helmet top via two elastic loops. Throat and Side Protector consists of three leather pieces, and extends protection along sides and bottom of neck. Throat Protector's bib-like design extends spark protection along front of throat and upper chest. Speedglas SideWindows(TM) has 5 lenses to increase peripheral vision by 100%.
---
Original Press Release:
Helmet Accessories Offers Welders Additional Protection & Comfort
Four new helmet accessories are now available for users of the Speedglas® 9000 auto-darkening welding helmet. The Sweatband in Leather (02-0024-01) is a direct replacement for the plastic sweatband that comes with the Speedglas 9000 helmet. Three sturdy snaps hold the leather sweatband firmly in place on the helmet's adjustable headband. The Head Protector (02-0645-00) is made from flame and spark-resistant Endura® material. It attaches to the top of the helmet via two elastic loops that fasten around the helmet's mounting hardware, as well as a Velcro® strip at the top of the helmet. The Throat & Side Protector (18-0099-68) is a set of three leather pieces that extend the helmet's protection along the sides and bottom of the welder's neck. The three leather pieces can be attached or removed, as desired, via their Velcro fastening strips. The Throat Protector (02-0690-00) has a bib-like design to extend spark protection along the entire front of the welder's throat and upper chest. Its flame-resistant Endura® material fastens via four Velcro strips that loop over the helmet's headband. All Speedglas 9000 helmets have Hornell's exclusive "breathability" design, with aerodynamic exhaust vents that reduce carbon dioxide, humidity and heat. As an option, the welding helmet is also available with the patented Speedglas SideWindows(TM) shade 5 lenses, which increase the welder's peripheral vision by 100%. Speedglas 9000 auto-darkening welding lenses come in four different models, from fixed dark shade lenses to the top-of-the-line Speedglas 9000X lens with five user-adjustable dark shade levels. Hornell, Inc., 2374 Edison Blvd., Twinsburg, OH 44087, USA. Tel: 800-628-9218 or 330-425-8880 Fax: 330-425-4576. E-mail: info.us@hornell.com Website: www.hornell.com
More from Electronic Components & Devices