Helium Ionization Detector provides on-site analysis.
Press Release Summary: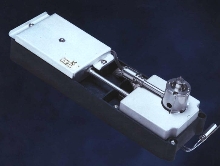 D3-1-HP Pulsed Discharge Helium Ionization Detector is non-radioactive, non-destructive, highly sensitive, and universal. Response is linear over wide range, and MDQs for most compounds are in low ppb range. With no open flame, no hydrogen requirement, and close-to-true-mass response, D3-1-HP is suitable for FIDs in petrochemical environments. When helium discharge gas is doped with suitable noble gas, detector functions as lampless, windowless, photoionization detector.
---
Original Press Release:

Helium Ionization Detector


VICI's Pulsed Discharge Helium Ionization Detector (PDHID) is the newest addition to the family of products for use in the gas chromatographic systems and field-portable devices for on-site analysis. The basic operating mode of the PDHID can replace virtually any of the detectors currently used by GC manufacturers.

The D3-1-HP Detector is non-radioactive, non-destructive, highly sensitive, and universal. Response is linear over a wide range, and MDQs for most compounds are in the low ppb range. With no open flame, no hydrogen requirement, and close-to-true-mass response, the D3-1-HP is an ideal upgrade for FIDs in petrochemical environments. And, when the helium discharge gas is doped with a suitable noble gas, the detector functions as a lampless, windowles, specific photoionization detector.

The PDHID requires only common helium for operation; there is no radioactive source requiring wipe tests and extra safety precautions. The PDI-ID sensitivity is better than that of radioactive HIDs and other discharge detectors, and it is compatible with columns from 50 micron capillaries to 1/8" packed.

For more information: Valco Instruments Co., Inc. P. O. Box 55603, Houston, Texas 77255; Phone: (800)367-8424; Fax: (713) 688-3948; Web: vici.com; e-mail: valco@vici.com

Marketing Ideas Marketing Ideas and Designs, Inc. is the advertising agency representing Valco & Deigns, Inc., Instruments Co., Inc. for press releases. Please address all questions to our office at 9166 Co. Rd. 121, Valley Head, AL 35989. Phone (256) 657-6423, Fax (256) 657-6428. ATTN: LaDonna Herrera

More from Fluid & Gas Flow Equipment