Heimatec Offers Live Tools for New Haas BMT Turret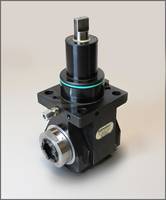 Market leader in live tooling can supply complete range of products for new Haas BMT Turret
Heimatec, a market leader in live tooling for the North American machine tool industry, announced today that it has an extensive line of tooling available for the new Haas BMT turret.
The line includes a variety of driven tools (axial and radial drilling & milling heads) as well as static tool holders. Heimatec also offers specialty tools for this turret including multi-spindle, adjustable angle, and speed multipliers. For detailed download catalogs, please see the Heimatec website at: http://heimatecinc.com/catalogs/
Heimatec already offers the most complete line of live tools available in the machine tool industry today, with over 40,000 designs in its database. These BMT turret tools are already proven and in production allowing Heimatec to provide immediate support and the most innovative tooling technology possible.
Heimatec North American distribution headquarters are located in Prospect Heights, Illinois (Chicagoland area) with world headquarters and all manufacturing based in Germany. A team of manufacturers' representatives covers the North American market for Heimatec.
For more information, please contact:
Preben Hansen,
President
Heimatec Inc.
16 East Piper Lane, Suite 129
Prospect Heights, IL 60070
847-749-0633