HEIDENHAIN to Showcase Next Generation Feedback Components and Nanometer Presentation at SEMICON 2016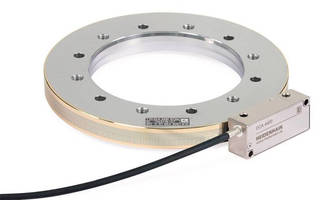 SCHAUMBURG, IL  – HEIDENHAIN is pleased to showcase new and next generation motion control and feedback components for the semiconductor industry at the upcoming SEMICON 2016 trade show in San Francisco, CA from July 12-14 (Booth #1809).   Also, a presentation on "Enabling Nanometer Stability" by HEIDENHAIN will be given at various intervals in the booth.



During HEIDENHAIN's brief "Enabling Nanometer Stability" presentation, visitors will learn about a measuring technology using a linear encoder that compares to and is better than a laser interferometer.  At HEIDENHAIN's adjacent ETEL booth (#1909), visitors will see a motion system stage where nanometer stability is accomplished.



HEIDENHAIN's booth will showcase a multitude of high quality encoders and scales, including the new ERO 2000 modular rotary encoder, the ECA 4000 absolute ring encoder and the popular redesigned LIDA 400 exposed linear encoder.



1)    HEIDENHAIN's new ERO 2000 high-speed, high-resolution modular rotary encoders for motion feedback offer a very compact design, excellent signal quality and therefore high interpolation rates and excellent thermal position stability.



2)    The next generation of the highly successful ECA 4000 incremental ring encoder features the new design that enables it for use in angular motion feedback, and include absolute technology.



3)    HEIDENHAIN's successful LIDA 400 exposed linear encoder is redesigned for the future of motion feedback. New features include offering a resolution of 50 nanometers and accuracies to +/- 1 micron, improved signal quality and a status LED on scanning unit.



For more information, contact HEIDENHAIN's Product Manager Kevin Kaufenberg at (847) 490-0387 / (kkaufenberg@heidenhain.com). Or write to us at HEIDENHAIN CORPORATION, 333 E. State Parkway, Schaumburg, IL  60173.  HEIDENHAIN can also be accessed directly via our web site at www.heidenhain.us.



HEIDENHAIN CORPORATION is the North American subsidiary of DR. JOHANNES HEIDENHAIN GmbH, a leading international manufacturer of precision measurement and control equipment.  Our product line includes linear scales, rotary and angular encoders, digital readouts, digital length gages, CNC controls, and machine inspection equipment.



More from Fasteners & Hardware