HEIDENHAIN Reaches New Heights with High Accuracy Encoder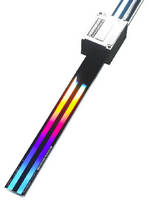 SCHAUMBURG, IL - In order to continue to offer technologically leading products for cutting-edge high precision machines, HEIDENHAIN has developed the new exposed LIP 200 linear encoder. This encoder system has been designed to break both speed and resolution barriers and will be on display at the SEMICON Show in San Francisco from July 13-15 (Booth 820). Incorporating the loosest mounting tolerances with 3m/sec velocities and resolutions far below 1 nm, the LIP 200 will give machine designers the ability to enhance performance and profitability more than ever before.

Especially useful in the semiconductor industry, Flat Panel Display productions, metrology and high-precision machining of workpieces, this new LIP 200 linear encoder meets the ever increasing accuracy demands placed upon the measurement function. With this new encoder, particular attention has been given to providing fine interpolation accuracy, extremely low position noise, and high traversing speed all over increasing measuring lengths. This OPTODUR scale will be available from 70mm to 1540mm lengths (longer available upon request). And the fact that the contamination resistance for an exposed frictionless encoder is unrivaled, and that the loose mounting tolerances save on machining costs, the LIP 200 is an overall excellent choice for designers.

An incremental linear encoder with a 512 nm signal period, this LIP 200 is especially geared for measuring step needs in the single nanometer and picometer realms, setting new standards compared to previous. It wil be available in 1Vpp, TTL and Endat.

For more information, contact HEIDENHAIN at (847) 490-1191, or write to us at HEIDENHAIN CORPORATION, 333 E. State Parkway, Schaumburg, IL 60173. HEIDENHAIN can also be accessed directly via our web site at www.heidenhain.com.

HEIDENHAIN CORPORATION is the North American subsidiary of DR. JOHANNES HEIDENHAIN GmbH, a leading international manufacturer of precision measurement and control equipment. Our product line includes linear scales, rotary and angular encoders, digital readouts, digital length gages, CNC controls and machine inspection equipment.

More from Fluid & Gas Flow Equipment