HED CANects come with 4GB of eMMC Flash Memory.
Press Release Summary: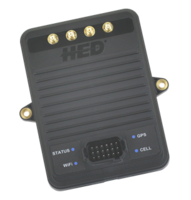 Available in CL-T05 (Wi-Fi), CL-T06 (GSM) and CL-T07 (Wi-Fi & GSM), CANect® M2M and IoT Modules are designed with i.MX 6UltraLite Cortex®-A7 Core (696MHz) Microprocessor. Featuring 128 MB DDR3 RAM and USB 2.0, units are used to collect and transmit vehicle data through CANect View®, Reflector®, Portal® and Composer® applications.
---
Original Press Release:
HED CANect - The Next Generation Telematics Portfolio
Telematics Made Easy
HED's CANect® provides a complete telematics solution with robust hardware, easy to use software development tools, and a complete back office telematics portal that can be customized for a branded user experience.
3 New Hardware Modules Add Flexibility for Your Application
Introducing the second-generation CANect® M2M and IoT modules, giving you three different ways to collect and transmit critical vehicle data: Wi-Fi, GSM or Combination. These three devices are powered by a powerful central processing architecture that consists of:
i.MX 6UltraLite Cortex®-A7 Core (696MHz) Microprocessor
128MB of DDR3 RAM
4GB of eMMC Flash Memory
(x2) CAN (ISO 11898) Ethernet (10/100BaseT)
USB 2.0 (Host/Client w/ OTG)
CL-T05 (Wi-Fi) – Concurrent 802.11 b/g/n
CL-T06 (GSM) – 2G/3G Cellular
CL-T07 (Wi-Fi & GSM) – Concurrent 802.11 b/g/n and 2G/3G Cellular
The CANect® portfolio is powered by Linux and utilizes a free, open source software development kit (SDK). The CANect® SDK is recommended for customers who are familiar with Linux and open source software development methods.
CANect® View® – a rich, mobile web application that resides on the equipment for looking at vehicle data.
CANect® Reflector® – remotely see CANect® View® anywhere for ease of diagnostics, maintenance, and service.
CANect® Portal® – a convenient web portal for all CANect® fleet management services such as telematics and Reflector®
CANect® Composer® – a diverse development utility that is perfect for those that want to develop and integrate their own M2M, telematics, or IoT experience.
Bring Us Your Challenges
HED's applications engineers are ready to show you the way to realize the true potential of telematics and achieve the results you need.
Visit us at CONExpo South Hall 4, Booth S84219
The CANect® portfolio is available for immediate purchase or sample evaluation. For more information, contact Brett McNalley, Product Manager, at BMcNalley@HEDonline.com or at 1-800-398-2224.
HED is a recognized leader in the development and manufacture of vehicle control solutions that increase vehicle uptime and improve safety and productivity. Visit us at www.HEDonline.com.
Contact:
Hydro Electronic Devices, Inc.
2120 Constitution Avenue,
Hartford, WI 53027
More from Agricultural & Farming Products