Heavyweight Cleveland Vibrators Easier to Handle Thanks to New Rhino Railcar Vibrator Lifter from the Arnold Company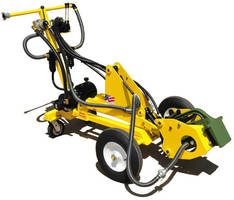 Cleveland, Ohio – Cleveland Vibrator Company's line of heavy-duty piston railcar vibrators are now easier to handle without risking back injury thanks to a partnership with The Arnold Company, according to Craig Macklin, vice president of sales and marketing for Cleveland Vibrator.



The Arnold Company, based in Trenton, IL, re-designed its popular Rhino Railcar Vibrator Lifter to accommodate Cleveland Vibrator's 1300, 1350 and 1400 VMRR piston railcar vibrators. The new Rhino features a reduced lifter width, more mobility and the ability to lift a much heaver load. CVC vibrators are most frequently used in unloading compacted materials in railcar hoppers to eliminate the danger and time associated with climbing around railroad cars to manually dislodge material.



"Workplace standards are changing where lifting heavy objects has become a safety and health issue," Macklin says. "This solution with The Arnold Company means you can move our proven, time-tested, powerful railcar piston vibrators without lifting or handling. Thus, we avoid potential on-the-job injuries, while still delivering the best railcar vibrator for our customers."



The VMRR series of vibrators weigh 76 lbs. for the 1300 model, 93 lbs. for the 1350 model and 165 lbs. for the 1400 model. Modifications to the Rhino Railcar Vibrator Lifter now enable users to effortlessly insert and remove the heavy CVC vibrators into the cradles on the side of the railcar, thereby eliminating a potential safety and ergonomics issue. Users can operate both the lifter and the vibrator with the same pneumatic supply line.



"Originally, the Rhino was designed to solely lift roller vibrators, but Cleveland Vibrator asked us if our lifter could handle their range of piston railcar vibrators," adds Albert Middeke, president of The Arnold Company. "We were in the middle of a re-design to the Rhino and were able to come up with a model that met all of the specifications that Cleveland Vibrator required."



"While railcar vibrators offer a huge benefit in enabling and improving product flow, they are quite heavy, weighing anywhere from 65 to 165 lbs. By coming up with a new design for the Rhino, customers of Cleveland Vibrator now have one of the most reliable railcar vibrator lifters on the market," Middeke says.



For more information on the VMRR Piston Railcar Vibrators from Cleveland Vibrator Company, go to: http://www.clevelandvibrator.com/Product/71/1016/1200-vmrr.aspx.



For more information on the Rhino Railcar Vibrator Lifter from The Arnold Company, go to: http://arnoldcompany.com/vibrator-lifter.aspx.



About Cleveland Vibrator Company

The Cleveland Vibrator Company has been driving innovations in materials handling since 1923. From its corporate headquarters in Cleveland, Ohio, and in partnership with HK Technologies in Salem, Ohio, the organization has met the challenges of more than 15,000 customers around the globe in a vast array of industries. Cleveland Vibrator Company's comprehensive product line includes air-piston, rotary electric, electromagnetic, turbine and ball vibrators, as well as a wide variety of fabricated feeders, vibratory screeners, ultrasonic screeners, vibratory conveyors and vibratory tables used for light, medium and heavy-duty applications. View the complete line of company products at www.clevelandvibrator.com.



About The Arnold Company

Home of the Door Demon®, The Arnold Company is the leading manufacturer of railcar openers in the United States.  With a heavy focus on improving safety and productivity in railcar opening and closing, The Arnold Company offers the widest line of hopper gate and boxcar openers in the industry.  Located in Trenton, IL, all railcar openers are proudly manufactured in house to the highest quality and durability standards.  In addition to its proven line of Door Demon openers, The Arnold Company also offers custom designed solutions to meet the specific needs of a customer's working environment.  See the complete line at www.arnoldcompany.com.



For more information, contact Craig Macklin, Cleveland Vibrator Company, at (800) 221-3298 or cmacklin@clevelandvibrator.com.



More from Electronic Components & Devices