Heavy-Duty Tube Fabrication Tools aid small bore tube assembly.
Press Release Summary: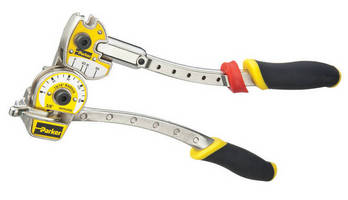 Suited for CPI(TM) and A-LOK® tube fittings, hand-operated tools include tube benders with indexing handle for ¼, 3/8, and ½ in. tubing sizes and calibration markings for left-hand, right-hand, and offset bends. Tube cutter for 1/8 and 1 1/8 in. stainless steel, steel, soft, copper, and aluminum tubing is also included, along with deburring tool for 3/16-1½ in. OD tubing. Inspection gauge and sawing vice, with hacksaw guide accommodating 3/16-2 in. OD tube, pipe, and hose, are also integrated.
---
Original Press Release:

Parker Hannifin Introduces a Comprehensive Package of Hands-Operated Tools for Fabricating Small Bore Tubing Runs



HUNTSVILLE, Ala. - Parker Hannifin Corporation (NYSE: PH), the global leader in motion and control technologies, has assembled a comprehensive and complementary package of tube fabrication tools for small bore tube assembly. The heavy duty hand-operated tools were created for use in a wide variety of industries, ranging from fluid instrumentation systems in processing plants to laboratory equipment applications.

Correct tube selection and installation are key ingredients to building leak-free, reliable systems. Parker's new tube fabrication equipment package provides all the equipment necessary to successfully install tube fittings - both CPI(TM) and A-LOK® - in various system applications. Available for a broad spectrum of instrumentation tubing sizes, the tools include benders, a cutter, a deburrer tool, a sawing vise with an integral hacksaw guide, and an inspection gauge.

The Parker Instrumentation Products Division (IPD), created the tube fabrication equipment package in response to customer and industry demand for a "one-stop-shop" offering of the basic tools needed for proper make-up and installation of tubing and fittings. Now, along with fittings and tube, customers can acquire the tube fabricating equipment all from one source - Parker - thus streamlining the purchase process and providing added value and support.

According to Eric Shull, Parker IPD product sales manager, while all the individual tube fabrication products have been available over the years, this is the first time these basic tools have been packaged into one complete, complementary offering. "With this package and the support materials provided with it, the job of installing tubing systems in all types of materials becomes less complicated and time-consuming," Shull explained

The new tube fabricating equipment package includes:


Heavy duty PTB tube benders with a unique indexing handle for 1/4 inch, 3/8 inch, and 1/2 inch tubing sizes. The newly designed benders provide accurate, tight radius bends of up to 180 degrees on soft copper, aluminum, brass, steel, and stainless steel tubing. All models feature a unique indexing handle with calibrate markings for making left-hand, right-hand, and offset bends. In addition, a patented quick-action trigger release easily repositions the tool midway through a bend when the handles meet.


PTC tube cutter for 1/8 inch to 1-1/8 inch stainless steel, steel, soft copper, and aluminum tubing. The tube cutter features include: a lower profile swing radius of 4-1/4 inches; rollers designed with a flare cut-off groove to reduce tube loss when the damaged flare is removed; a lightweight die-cast solid aluminum body; and an enclosed hardened steel, thrust-bearing feed mechanism for the smoothest cutting action and trouble-free operation.


Deburring tool for 3/16 inch to 1-1/2 inch O.D. tubing. A quick twist will deburr either the O.D. or the I.D. of the tube end. Featuring a tough die-cast body, the deburrer can be used on annealed steel, stainless steel, copper, or aluminum.


Sawing vice with an integral hacksaw guide. The hacksaw guide will accommodate tube, pipe, and hose from 3/16 inch O.D. to 2 inch O.D. Assures square cut-offs within ±1 degree.


Inspection gauge available in three sizes: 1/4 inch, 3/8 inch, and 1/2 inch (4, 6, and 8). This compact C-Ring gap gauge is for imperial and metric sizes. It effectively checks the gap dimensions for correct initial make-up.

The tube fabricating equipment package is detailed in a new, completely updated "Tube Fabricating Equipment" catalog. The catalog provides product specifications, assembly & remake information, gaugeability instructions, and an instrument tubing selection guide. In addition, a "Tube Fabrication Training Seminar" is available for interested, qualifying organizations and groups of individuals. The hands-on class details the proper method of installing tube fittings; the correct way to measure, cut, and bend tubing; and tube fitting make-up and remake procedures. A free training guide - "Instrument Tube Fitting Installation Manual" - is also available.

For more information regarding Parker's tube fabricating equipment or tube fitting products, or to request the "Tube Fabricating Equipment" catalog (Catalog 4290), visit www.parker.com or contact Parker IPD at 256-881-2040.

The Instrumentation Products Division is dedicated to being the global leader in the design, manufacture and distribution of high quality, critical flow and ultra-high purity components for the petrochemical, chemical processing, oil and gas, power generation, water analysis, biopharmaceutical, semiconductor, and analytical equipment industries.

With annual sales of $10 billion in fiscal year 2010, Parker Hannifin is the world's leading diversified manufacturer of motion and control technologies and systems, providing precision-engineered solutions for a wide variety of mobile, industrial and aerospace markets. The company employs approximately 55,000 people in 46 countries around the world. Parker has increased its annual dividends paid to shareholders for 54 consecutive years, among the top five longest-running dividend-increase records in the S&P 500 index. For more information, visit the company's web site at www.parker.com, or its investor information web site at www.phstock.com.

Related