Heavy-Duty Stretch Wrapper has 7 in. full color touchscreen HMI.
Press Release Summary: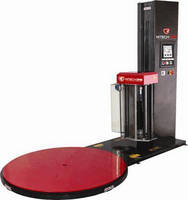 Available as Low and High Profile and Dual Turntable machines, LP20/20-UTS features 100% steel construction, 60 in. table, 6,000 lb load capacity, and 30 in. Uni-Tension Pre-Stretch or Magnetic Brake systems that can use both 20 or 30 in. film/netting. Touchscreen provides such intuitive features as customized programs with wrapping parameters based on varying product, troubleshooting screens with part numbers and descriptions, full manual operation system, and real-time machine alarms.
---
Original Press Release:

Nitech International Packaging Machines Releases New LP20/20-UTS with 7" Full Color Touch Screen



NITECH IPM releases new color touch screen on the LP20/20-UTS stretch wrapper. The LP20/20-UTS known for its heavy-duty construction and reliable performance has many standard features not found on competing brands including: 7" color HMI touchscreen, 100% steel construction, 60" table, 6,000lb load capacity, 30" Uni-Tension Pre-Stretch or Magnetic Brake systems that can use both 20" or 30" film/ netting and offer material savings. The newest addition to the LP20/20-UTS is the 7" HMI color touchscreen, offering intuitive features such as: customized programs designed with different wrapping parameters based on varying product; troubleshooting screens that include part numbers with descriptions; a full manual operation system and real time machine alarms. This series is available in Low and High Profile and Dual Turntable machines. The 20/20 series has many options available that include integrated scales, Hi-Slide for up to 120" wrap heights and oversized turntables.



For more information call 800-237-6496, visit nitechipm.com or e-mail us at: info@nitechipm.com

Related