Heavy-Duty Soldering Iron suits electronics, audio systems.
Press Release Summary: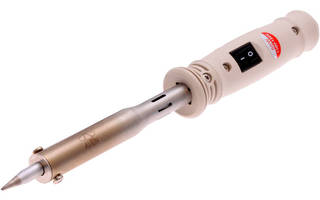 Able to reach 932°F, 80 W soldering iron features replaceable, pencil-style, fine tip and is suited for use with metal boards, tubes, large components, and electric groundings. Heavy-duty tool, used for fabrication, electronic, audio work, and other applications, is 11.25 in. long and comes with 5 ft cord. Round, balanced handle has on-off switch and soft, non-slip texture to enable extended use.
---
Original Press Release:

Aven Heavy-Duty Soldering Iron Is Ideal for Electronics, Audio Systems and Models



ANN ARBOR, MI – Aven, Inc. introduces an 80-watt professional soldering iron for fabrication, electronic, audio work and other applications.



The heavy-duty tool,  which reaches 500 degrees Centigrade (932 Fahrenheit), has a pencil-style fine tip that's replaceable. It's suited for use with metal boards, tubes, large components, electric groundings and radio-controlled quadcopters or model planes, boats and vehicles.



The round, well-balanced handle has an on-off switch and a soft, non-slip texture – features designed for comfort and hand relaxation during extended use of the lightweight tool. 



"This latest addition to our soldering line offers professional-grade features that are useful beyond the workplace," says Mike Shahpurwala, president of Aven. "It's practical for automotive and marine joints, as well as for jewelry and stained glass artistry."



The iron is 11.25 inches long with a five-foot cord.



Aven, a Michigan-based industrial and scientific supplier. also offers lead-free or regular solder in rolls and tubes, two styles of soldering stations, a 550-watt soldering pot, tool kits, an adjustable circuit board holder, and desoldering wicks and pumps.



For more information, contact Aven at (734) 973-0099 or sales@aveninc.com. A digital catalog is here.



Visit Aven at Booth 1608 of the Quality Show in Rosemont, Ill., from Oct. 27-29.

Related