Heavy-Duty Rotary Screen minimizes downtime with extended service.
Press Release Summary: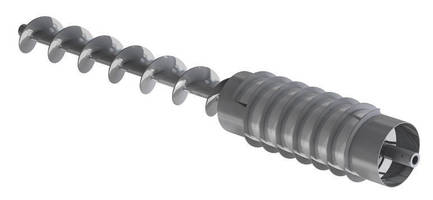 Designed for blast machines operating in heavy-duty environments, HD Rotary Screen sifts out larger chunks of debris, such as core lumps, ahead of airwash and/or magnetic separation during abrasive cleaning cycle. Construction of this hard-wearing rotary screen, designed for extended service life, contributes to sturdiness via use of hard steels in strategic locations, abrasive-resistant flighting and end bands, as well as DOM tubing.
---
Original Press Release:

Cast Expo: Wheelabrator to Unveil Heavy-Duty Rotary Screen



LAGRANGE, GA – Wheelabrator will be showcasing a new, hard-wearing rotary screen at Cast Expo – designed specifically for blast machines operating in heavy-duty environments.



Rotary screens are an important part of the abrasive cleaning cycle in blast machines, sifting out larger chunks of debris, such as core lumps, ahead of airwash and/or magnetic separation.



Yet, however essential the rotary screen may be for effective abrasive cleaning, for maintenance managers in foundries this key piece of kit is also a recurring bugbear. In heavy-duty environments, rotary screens wear faster and have to be replaced more frequently.



As the rotary screen sits fairly deep in the machine, replacing it is usually a major disruption to production. Maintenance time and cost caused by it can be significant.



Wheelabrator has been working closely with a foundry customer who runs 24/7 operations, to develop a heavy-duty version of its rotary screens. With the resulting new HD Rotary Screen the team has drastically increased service life of this critical part.



The new design uses harder steels in strategic locations and introduces abrasive resistant flighting and end bands, as well as DOM tubing. The result is an overall sturdier, stronger part with a 50-100% extended service life.



Brian Cappallo, Director of Sales and Service at Wheelabrator Plus, said: "The new HD Rotary Screen is part of our continuous efforts to make life easier for our customers and improve equipment where it matters. For our forge and foundry customers, a heavy-duty rotary screen can make a huge difference thanks to longer service life and its knock-on effects on maintenance cost and machine uptime. By improving performance and service life of every part in both machine and auxiliary equipment, we're helping foundries across America to minimize downtime and run more efficient operations."



The HD Rotary Screen is currently in advanced testing at selected customer sites and will become available in the coming months.



Wheelabrator will be showing the new HD Rotary Screen at Cast Expo 2016 in Minneapolis, booth 2034.



For more information about abrasive separators from Wheelabrator, please visit www.wheelabratorgroup.com.



Media contact

Fritzi Wemheuer

Intelligent Conversation (Manchester, UK)

M: 0044 7972 896 013

T: 0044 161 212 1615

More from Architectural & Civil Engineering Products