Heavy-Duty Robot streamlines de-palletizing processes.
Press Release Summary: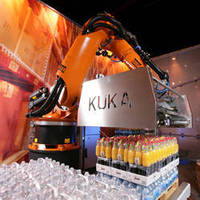 Suited for Material Handling and Logistics industry, automated KR 500 570-2 PA employs heavy-duty robot with 570 kg max payload capacity and 3 algorithms for mixed and unmixed palletizing. It is tooled with servo-controlled layer gripper, which can remove entire layers from pallet of any material in one cycle. Servo layer gripper motors, synchronized with KR 500 570-2 PA, streamline operation when mixing different product layers on same pallet.
---
Original Press Release:

KUKA Robotics to Demonstrate Innovative De-Palletizing Solution at ProMat 2009



KUKA Robotics Corporation, a leading global manufacturer of industrial robots, today announced it will demonstrate an innovative automated layer de-palletizing solution for the Material Handling and Logistics industry at ProMat 2009 Booth #2512.

KUKA Robotics will display the KR 500 570-2 PA in a de-palletizing demonstration. The KR 500 570-2 PA , a heavy duty robot with a payload up to 570kg and three different palletizing algorithms for mixed and unmixed palletizing is known for it's space saving and cost-effective support in a spectrum of palletizing applications. The KR 500 570-2 PA will be tooled with a state-of-the art KUKA designed Servo controlled layer gripper known for the ability to remove entire layers from a pallet of virtually any material in a single cycle. The Servo layer gripper motors are synchronized with the KR 500 570-2 PA allowing for a more time saving, cost efficient solution for palletizing when mixing different product layers on the same pallet. The KR 500 570-2 PA user friendly interface can communicate directly to a warehouse management system software and is suitable for building rainbow or starter pallets in distribution centers or feeding a layer descrambler for a down stream case buffer. This same system can also be integrated to perform slip sheet handling and empty pallet handling.

KUKA Robotics Corporation, with its parent company KUKA Roboter GmbH, Augsburg, Germany, is one of the world's leading manufacturers of industrial robots. The company's 4, 5 and 6 axis robots range from 5kg to 1000kg payloads, and 635mm to 4000mm reach, all controlled from a common PC based controller platform. KUKA robots are utilized in a diverse range of industries including the appliance, automotive, aerospace, consumer goods, logistics, food, pharmaceutical, medical, foundry and plastics industries and in multiple applications including material handling, machine loading, assembly, packaging, palletizing, welding, bending, joining, and surface finishing. For more information contact KUKA Robotics at 866-873-5852 or visit their website at http://www.kuka.com/usa/en/.

About the KUKA Robot Group
KUKA Roboter GmbH, Augsburg, is a member of the KUKA Aktiengesellschaft and ranks among the world's leading suppliers of industrial robots. Core competencies are the development, production and sale of industrial robots, controllers, software and linear units. The company is the market leader in Germany and Europe, and the number three in the world. The KUKA Robot Group employs about 2,000 people worldwide. Of these, 1,200 are employed in Germany, either at the KUKA Robot Group headquarters in Augsburg, or at various subsidiaries. In 2007, sales totaled 413 million euro. Twenty-five subsidiaries provide a presence in the major markets of Europe, America and Asia.

The KUKA logo is a registered trademark of KUKA Roboter GmbH. KUKA, KUKA KR 500 570-2PA are trademarks of KUKA Roboter GmbH. All other trademarks are owned by their respective companies.

Contact
Rebecca Markel
Marketing Manager
22500 Key Drive
Clinton Township, MI 48036
USA
Phone: 586-465-8855
rebeccamarkel@kukarobotics.com
www.kukarobotics.com

More from Packaging Products & Equipment