Heavy-Duty Robot can lift parts weighing up to 1,350 kg.
Press Release Summary: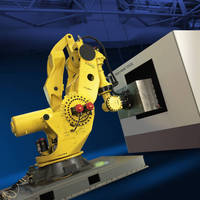 Model M-2000iA/1200 can support standard payload of 1,200 kg, and up to 1,350 kg, with 0.6 m offset from faceplate and fully articulated motion at wrist. Vertical lifting stroke is 6.2 m and wrist is IP67 protected for harsh environments. System includes vision and force sensing as well as FANUC iRVision system with 2D robot guidance tool for operations such as part location and error proofing. Integrated software uses robot itself for some safety functions.
---
Original Press Release:

FANUC Robotics America Inc. Today Introduced the New M-2000iA/1200



FANUC Robotics Introduces World's Strongest, Super Heavy-Duty Robot at 2009 Robots and Vision Show

ROCHESTER HILLS, Mich., June 9, 2009 - FANUC Robotics America Inc. today introduced the new M-2000iA/1200 super heavy-duty robot, able to lift parts weighing up to 1350 kg (3,000 lbs) at the 2009 International Robots & Vision Motion Control Show at the Donald E. Stephens Convention Center in Rosemont (Chicago) IL, June 9-11, booth #1411.

"The M-2000iA/1200 has the highest payload and the strongest wrist compared to all other electric six-axis robots available today," said Ian Orr, product manager, FANUC Robotics. "It can support a 1350 kg payload with a 0.6 m offset from the faceplate and full articulated motion at the wrist. One M-2000iA/1200 robot can handle a super heavy part, which previously required dual robots, conveyors, lifts and other fixed automation."

The new M-2000iA/1200 is the second in FANUC Robotics' line of heavy-duty robots designed to handle truck, tractor, and automotive frames, and other large castings. The M-2000iA/900L robot, offering a 900 kg payload (1,984 lbs) was introduced at IMTS 2008. The rigid arm design of the M-2000iA/900L has a vertical lifting stroke of 6.2 m for transferring extremely heavy items such as a car body.

At the show, the new M-2000iA/1200 equipped with iRVision® 2D error proofing and Dual Check Safety (DCS) Speed and Position Check Software will demonstrate its high capacity payload and wrist by loading and unloading a machine tool bed weighing 1350 kg into a machine tool. The robot will transfer the machine tool bed in front of a 2D camera, and iRVision error proofing inspects the part for proper machining of T-Slot guideways that hold tools.

The M-2000iA/1200, like all FANUC robots, operates with the company's latest R-30iA controller with integrated intelligent functions such as vision and force sensing.

M-2000iA - key features and benefits

o M-2000iA/900L standard payload is 900kg

o M-2000iA/1200 standard payload is 1200 kg with a 1350 kg payload option

o Vertical lifting stroke of 6.2 m (M-2000iA/900L)

o Rigid arm offers stable transferring of heavy payloads

o Strongest wrist in the world handles super heavy products with stability

o Wrist is IP67 protected for operation in harsh environments

o Built-in vision and force sensing

o Reduces costs associated with fixed automation

Integrated (built-in) Vision

The FANUC iRVision system is a ready-to-use robotic vision package, available on all FANUC robots, requiring only a camera and cable - no additional processing hardware. It has a 2D robot guidance tool to accomplish part location, error proofing, and other operations that normally require special sensors or custom fixtures. For robotic vision processes that exceed the capability of 2D vision systems, FANUC Robotics offers an integrated 3D vision system.

Dual Check Safety (DCS) Speed and Position Check Software

Prior to the application of safety rated robot software, all safeguarding of the robot needed to be external, either as a safety rated limit switch or cam system, safety rated area scanners, or other devices to limit robot travel or enhance protection. DCS safety rated robot software allows the safety design of the robot system to use the robot itself for some of the safety functions.

The most significant benefit of DCS Speed and Position Check is in applications where the travel of the robot needs to be restricted due to floor space or process limits that are less than the full reach of the robot. Restricting the robot motion in Cartesian space means the robot can be restrained to exactly the area in which it works; something that is not possible with the current systems that limit robot motion externally using limit switches.

"By moving some of the safety functions to within the robot, customers will realize significant savings in floor space, flexibility in system layout, reduced hardware costs, and improved reliability," said Claude Dinsmoor, general manager, controller product development, FANUC Robotics.

In addition, safe "zones" can be enabled and disabled from an external source such as a safety PLC. Designing a system with multiple zones means an operator can safely enter and leave the workspace of the robot.

"This streamlines the design of robot cells because it prevents the robot from entering the load area when an operator is present," added Dinsmoor. This type of application is possible with existing technology, but it is typically difficult to setup, expensive to implement, and requires more floor space than a system using DCS."

FANUC Robotics America, Inc. designs, engineers and manufactures industrial robots and robotic systems for a wide range of applications including arc and spot welding, material handling (machine tending, picking, packing, palletizing), material removal, assembly, paint finishing and dispensing. The company also provides application-specific software, controls, vision products, and complete support services. After 27 years of success, FANUC Robotics maintains its position as the leading robotics company in the Americas. A subsidiary of FANUC LTD in Japan, the company is headquartered in Detroit, and has facilities in Chicago; Los Angeles; Charlotte, N.C.; Cincinnati and Toledo, Ohio; Toronto; Montreal; Aguascalientes, Mexico; and Sao Paulo, Brazil. Over 200,000 FANUC robots are installed worldwide. Contact FANUC Robotics at www.fanucrobotics.com or by calling 1-800-iQ-ROBOT, option 5.