Heavy-Duty Pumps handle liquids and semi-solid materials.
Press Release Summary: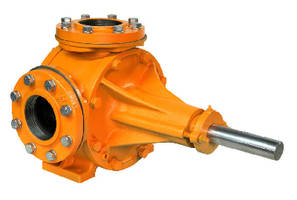 Designed with 4 in. flanged ports, 200 Series is suited for liquids and semi-solid materials with viscosities from 40/4 to 100,000/21625. Variable volume Model 200AV requires less HP by maintaining minimum pressure, adjusting displacement to discharge rate allowed. Model 200AX has large passage isolated from pumping members to link discharge port directly to suction for bypass action. With large bronze shaft bearings and oversized glands, Model 200A is suited for straight transfer work.
---
Original Press Release:
Tri-Rotor's 200 Series Pumps are Heavy-duty Workhorses for Pumping Liquids and Semi-Solid Materials
Designed with 4" flanged ports and only three moving parts, Tri-Rotor's 200 Series pumps are heavy-duty, low-maintenance workhorses for pumping liquid and semi-solid materials with viscosities from 40/4 to 100,000/21625.  Flow rates range from 58 to 240 GPM (200 GPM at 430 RPM).

The 200 Series includes three head types: variable volume, relief valve and transfer.

To meet specialized pumping problems, the Model 200AV variable volume pump requires less HP by maintaining a minimum pressure, adjusting its displacement to the discharge rate allowed and reducing the breakdown of materials being pumped in a recirculating system. This pump is capable of specialized pumping including proportioning of liquids and control of liquid flow to dehydrators, heaters and more.

Model 200AX has a large passage isolated from pumping members to link the discharge port directly to suction for by-pass action eliminating the need for external by-pass piping and relief valve. Optional oversized "jackets" at both ends of the pumps are available to assure that the pumpage remains at temperature. Model 200AX has a maximum operating pressure of 100 PSI making it ideal for corn syrups, molasses, starches, soaps and greases.

The large bronze shaft bearings and oversized glands of Model 200A are ideal for straight transfer work and general applications. This high-efficiency, low cost solid head pump has a 125 PSI maximum operating pressure. The pump consists of a housing (body), rotor, piston, shuttle block and cover (Solid Head). Rotary piston displacement action results in a minimum wear condition in the handling of dry liquids, such as aviation gasoline, naphtha or solvents.

Tri-Rotor pumps are available with lacquered white epoxy for stainless steel for applications requiring sanitary movement of materials. Tri-Rotor offers base mounting and drive assemblies to meet your pumping application needs. All Tri-Rotor pumps are made in America.

Contact:
Tri-Rotor, Inc.
36 East Lawton Street
Torrington, CT 06790
800-782-4477/860-482-8581
info@trirotor.com
www.trirotor.com
More from Material Handling & Storage