Heavy-Duty Mobile Machinery Joysticks are ergonomic, customizable.
Press Release Summary: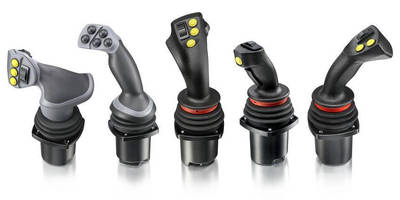 Comprised of intelligent mobile control solutions, PLUS+1®-compliant JS1-H series can be customized for application needs in several ways: button and switch placement as well as selection between 3 bases – single-axis with spring return or friction hold and dual-axis with spring return – and 5 ergonomically tested grip types. Pushbuttons, rollers, and other controls on each can be custom-positioned, and 6 standard electrical interfaces available.
---
Original Press Release:
Danfoss Launches New JS1 Joystick Platform with Initial Release of JS1-H Family
With a customizable and ergonomically optimized design, the heavy-duty JS1-H family of joysticks is easily integrated into the existing workflow of original equipment manufacturers (OEMs); provides small and medium-size OEMs with the same customizability expected by larger OEMs without sacrificing time for development.

After 25 years of supplying OEMs with joysticks and integrating them into systems, Danfoss is pleased to launch its new JS1 platform of joysticks, led by the release of the JS1-H family for heavy-duty applications. The platform is based on strong engineering experience and expertise with joystick functionality and user preferences.

The JS1-H family combines a professional look, touch and feel with superior quality, making the joysticks not only operationally and technically impressive but also safe, reliable and effective for mobile machinery.

"Danfoss has drawn on its years of experience both engineering components and working with OEMs to engineer systems to develop the JS1-H family and the entire JS1 joystick platform," said Rüdiger Hüttmann, product manager at Danfoss Power Solutions. "We are excited to offer our customers — small, medium and large-size OEMs alike — a new level of machine control."

The JS1-H family of joysticks offers a versatile solution designed for use in heavy-duty mobile machinery such as wheel loaders, dozers, dumpers, trenchers and haulers in the construction market, as well as pavers, graders, rollers and milling machines in road-building. The proven intelligent mobile control solutions from Danfoss can be customized for application needs in several ways, including button and switch placement, and selection between three different bases and five different grip types that ensure smooth and comfortable operation. Additionally, the state-of-the-art design is easily integrated into OEMs' existing development projects, saving time and money in machine design work.

Following the release of the JS1-H family, additional offerings within the new JS1 platform will be introduced in the coming year.

Benefits of the JS1-H
Customers will benefit from the following offerings of the new JS1-H joysticks:

• Customizable solutions: To provide customizable solutions for OEMs and Danfoss distributors, the JS1-H family of joysticks gives customers the ability to select from a standard portfolio. This consists of three base options — single axis with spring return or friction hold and dual axis with spring return — and five ergonomically tested grip-type options. Additionally, push buttons, rollers and other controls on each can be custom-positioned.

• Smart compatibility: All of JS1-H grip options are compatible with all base options, making upgrading as simple as swapping in a new component. Plus, there will be six standard electrical interfaces available for ease of configuration and selection.

• Superior performance: For superior performance, a joystick's integration into the system it is controlling must be both seamless and simple, and several features of the JS1-H joysticks enable full control. First, the state-of-the-art design allows the family to be implemented on just about any machine requiring joystick control. Additionally, the JS1-H is PLUS+1®-compliant for added control based on data and programing. This simple development platform makes building and implementing software fast and easy — reducing the cost associated with custom-built code while maintaining quality performance.

• Faster and more flexible fulfillment times: Because OEMs and Danfoss distributors can select from the JS1-H standard portfolio, machine manufacturers are able to reduce the cost of stocking joysticks, and support faster and more flexible fulfillment times. The easy integration with PLUS+1 and industry-leading fulfillment speed also ensure that development times and expenditures are fast and efficient. Even distributors can select, assemble and test customized options, in accordance with well-defined quality standards and processes, for rapid prototyping. This helps significantly minimize the development time of prototypes and reduce the time to market for new machines.

For more information, visit powersolutions.danfoss.com or contact a Danfoss distributor.

Around the world, mobile equipment manufacturers rely on Danfoss expertise for the most innovative work, propel, control and steering solutions. Working in partnership with customers, Danfoss provides high-value, high-performance components for a broad range of mobile equipment applications. Danfoss designs, manufactures and sells a complete range of engineered hydraulic and electronic components including hydrostatic transmissions, mobile electronics, orbital motors, steering components and PVG proportional valves.

For technical information:
Rüdiger Hüttmann  Danfoss Power Solutions   Phone: +49 4321 871 266
Neumünster, Germany   rhuettmann@danfoss.com

For media information and photos:
Americas & Europe:
Allee Wengert    Danfoss Power Solutions   Phone: +1 515-956-5271
Ames, Iowa, USA    awengert@danfoss.com

Related links:
powersolutions.danfoss.com
Related